Bacon & Cheese Panini Recipe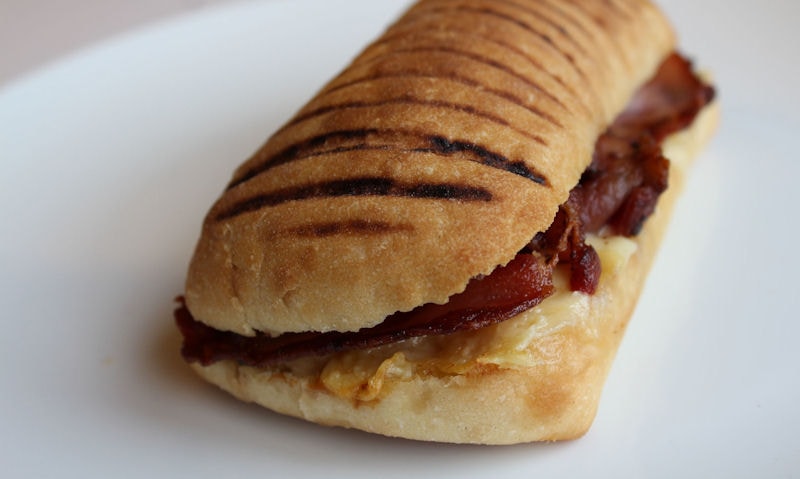 Bacon & Cheese Panini Recipe
All you need for this freshly cooked panini is rashers of bacon and slices of mature Cheddar cheese. Cook this in the oven for 18 minutes and its ready to eat right away.
This bacon and cheese panini is a simple breakfast panini, with your bacon rashers pre-cooked in the pan, and thick slices of a strong Cheddar.
Cook this all in the oven - covered in foil - for 18 minutes.
This should be enough time for the cheese to melt and the panini to lightly crisp up.
PREP:
7 MIN.
COOKING TIME:
18 MIN.
SERVINGS:
1
INGREDIENTS
1 Plain panini, from the bakery with grill marks
3 Unsmoked bacon rashers
80g mature Cheddar cheese, sliced
Butter, optional
INSTRUCTIONS
1
Begin by slicing all the way open your plain white panini with a knife
2
At this time you can add a spread of soft butter to the top piece, but this is optional
3
Slice 80g worth of mature Cheddar cheese and lay over the bottom panini slice so its all covered, and leave on the plate in the meantime
4
Then fry the bacon by placing 3 rashers to a pre-heated frying pan - no oil - and cook for 5 minutes or until golden
5
Use the backside of a spatula to press down the bacon well frying for even coverage, once cooked move the crispy bacon directly to your bottom panini piece
6
Simply fold over the 3 rashers of bacon and place side by side on the cheese for a good thick filling
7
Close the panini with the top piece and cover the whole thing with a sheet of foil paper - to avoid burning and crisping to much, to fast
8
Move the foil covered panini - directly on to the oven bars - to the pre-heated oven and cook for 18 minutes, turning around half way through cooking
9
Finally, remove from oven, remove foil and transfer to a plate, cut in half and enjoy while hot
NUTRITIONAL DETAILS:
Calories: 1240
Fat: 84.4g
Salt: 8.1g
Sodium: mg
Carbs: 50g
Protein: 83.6g
Fibre: 2.8g
Energy: 5155kJ
Calcium: 1330.2mg
SHARE THIS RECIPE: