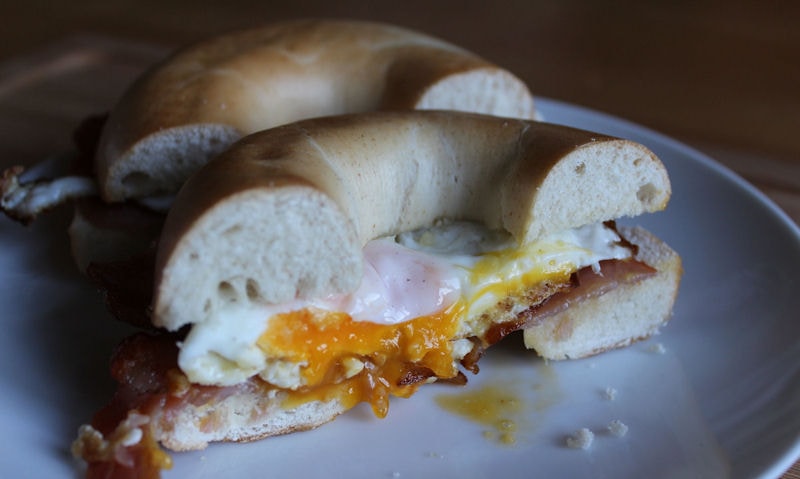 Bacon & Egg Bagel Recipe
Cook up a breakfast bagel with just two main ingredients; egg and unsmoked back bacon - in a plain bagel with a runny yolk egg.
All you need to do to make this egg and bacon bagel recipe is cook up the 3 rashers of bacon first in a frying pan with no oil.
Then throw them into a bagel before then adding cooking oil and frying the egg until cooked with a runny yolk.
PREP:
5 MIN.
COOKING TIME:
10 MIN.
SERVINGS:
1
INGREDIENTS
1 medium free range egg
1 New York Bakery plain bagels
3 rashers unsmoked back bacon
INSTRUCTIONS
1
Cut open your bagel and leave to sit on the plate until needed later
2
Then in a pre-heated frying pan, throw in 3 bacon rashers and cook for at least 5 minutes - than transfer directly onto the bottom bagel slice
3
In the still hot frying pan, add 1 tablespoon of cooking oil and bring it up to a medium heat, then crack open one egg and begin the frying process
4
Simply cook the egg for at least 4 minutes on a medium heat, but if there is not enough oil to spatula the top yolk, simply cover with a lid to trap the heat
5
When cooked, transfer the egg - draining well over the frying pan - with the spatula and place directly on your bacon
6
Make life a little easier by cutting the bacon and egg bagel in half before serving hot
NUTRITIONAL DETAILS:
Calories: 503
Fat: 22.3g
Salt: 5.4g
Carbs: 44.1g
Protein: 44.8g
Fibre: 2.8g
Energy: 2105kJ
SHARE THIS RECIPE: