BBQ Chicken Panini Recipe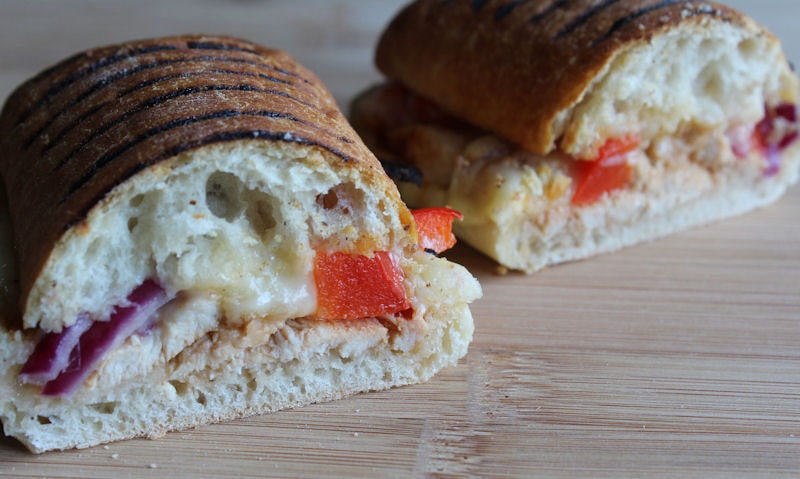 BBQ Chicken Panini Recipe
All the benefits of a BBQ panini without using a real barbeque. It only takes a couple of veggies, cheese, chicken and a simple BBQ sauce to make this panini sandwich.
A freshly cooked BBQ chicken panini you won't be disappointed with.
Begin by mixing half a pack of roast chicken chunks with a class BBQ sauce - the dip kind, not the marinade - and layer it up with red pepper and onion before applying grated cheese.
Then cook in the oven and you got a tasty BBQ treat.
PREP:
10 MIN.
COOKING TIME:
18 MIN.
SERVINGS:
1
INGREDIENTS
1 plain panini with grill marks
1 tbsp. classic barbeque sauce
65g sliced roast chicken breast
80g mature grated Cheddar cheese, approximately 2 thick slices worth
1 slice red pepper
2 slice red onion
INSTRUCTIONS
1
Take 65g, or half a pack of ready to eat cooked chicken breast pieces and add to mixing bowl
2
Then take 1 tablespoon of a classic BBQ sauce and add to the bowl - mixing chicken and sauce thoroughly
3
Cut open a plain grill marked panini and apply all your BBQ coated chicken pieces to the bottom side
4
Cut a thick slice of red pepper and cut down again into more manageable pieces
5
Cut a slice of red onion, then cut in half and break down the rings
6
Place all your grated mature Cheddar cheese to the top and close up the panini
7
Finally, wrap panini in tin foil and place in a pre-heated oven at gas mark 5 for 18 minutes until the cheese has melted and the chicken has cooked all the way through
8
Transfer from oven, remove foil and cut in two halves and serve well its still hot
NUTRITIONAL DETAILS:
Calories: 675
Fat: 27.6g
Salt: 2.6g
Carbs: 64g
Protein: 40.4g
Fibre: 4.8g
Energy: 2828kJ
SHARE THIS RECIPE: