Beef & English Mustard Sandwich Recipe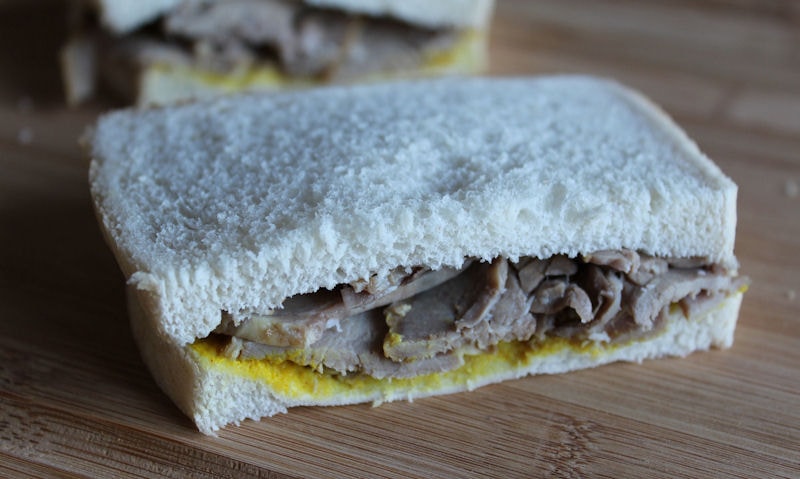 Beef & English Mustard Sandwich Recipe
Traditional British roast beef and mustard sandwich using a classic hot English mustard to help make the sandwich pop, but with a little mayo to douse the strength.
Well only needing two main ingredients - beef and mustard - its finding the right combination of quality fillers that help make this sandwich.
So for this one you've used medium rare roast beef thin slices and Coleman's English mustard.
This beef and mustard sandwich calls for white bread with butter optional, but mayonnaise is recommended to help reduce the heat from the mustard.
INGREDIENTS
2 Medium cut white bread slices
2 Topside medium rare roast beef slices
1 tbsp. Coleman's Original English Mustard, leveled
1 tbsp. Hellmann's Real Mayonnaise
INSTRUCTIONS
1
Lay out two slices of medium cut white bread side by side on the chopping board
2
On one slice spread of one leveled tablespoon of Coleman's English mustard, reaching out to the edges
3
On the opposite bread slice, spread on one tablespoon of Hellmann's mayonnaise, again reaching out to the corners
4
On the mustard, layer two roast beef slices, making sure to keep the beef within the confines of the sandwich
5
That's it, simply close up the sandwich and serve, but best stored in the fridge for up to an hour
NUTRITIONAL DETAILS:
Calories: 356
Fat: 14g
Salt: 2g
Carbs: 37.2g
Protein: 9.2g
Fibre: 2.2g
Energy: 1493kJ
SHARE THIS RECIPE: