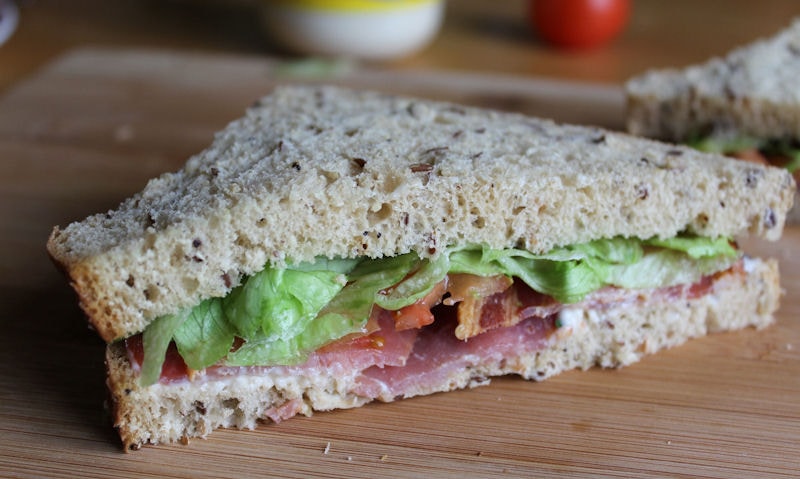 BLT Sandwich Recipe
Well known BLT sandwich consisting of unsmoked bacon, lettuce and tomato with a creamy mayonnaise on a medium cut wholemeal bread.
Make the most of this bacon lettuce and tomato sandwich recipe by using Danish unsmoked back bacon, crunchy Iceberg lettuce and juicy tomatoes.
A big spoiler comes from the bread you select, so go for a loaf that has little flavor, to allow the taste of the bacon, lettuce and tomato to come through.
To improve the sandwich a little more, allow it to chill in the fridge - covered in saran wrap - for at least an hour so the salty bacon combines with the mayo for the ultimate BLT sandwich.
PREP:
6 MIN.
COOKING TIME:
10 MIN.
SERVINGS:
1
INGREDIENTS
2 Medium cut wholemeal bread slices
1 tbsp. Hellmann's real mayonnaise, big spoonful
6 Unsmoked back bacon
5 slices tomato
1 Iceberg lettuce leaf
INSTRUCTIONS
1
Cook up to 6 rashers of bacon in a grill pan in their own fat, using the back of a spatula to press the rashers flat down on the pan surface for even cooking - turning over for 10 minutes or so - and allow to go cold
2
Now place two slices of medium cut wholemeal bread side by side on the chopping board and on the one slice spread over one big spoonful of Hellmann's mayonnaise
3
Then stack your unsmoked back bacon directly over the mayonnaise, building up a layer of bacon
4
Cut 5 slices of tomato and place over the bacon - but try to catch some of the residue using kitchen paper
5
Take a leaf of crunchy Iceberg lettuce, fold it over multiple times and slice it with a knife for shredded lettuce - then pop on top of bacon and tomato
6
Finally, pop the top bread slice on and allow to chill in the fridge for an hour before serving
NUTRITIONAL DETAILS:
Calories: 734 Fat: 45.8g Salt: 10g Carbs: 37.5g Protein: 68.3g Fibre: 6.9g Energy: 3052kJ
TIPS & ADVICE
We've used unsmoked back bacon here because its vastly available. But if you can buy it try this recipe using thin cut sweetcure bacon as its a fine cut of bacon and very tasty.
SERVING SUGGESTIONS
So what to serve with BLT sandwiches? Well with this one serve it as a lunch time meal with a pack of ready salted potato chips and perhaps a cold regular or diet coke - your choice.
SHARE THIS RECIPE: