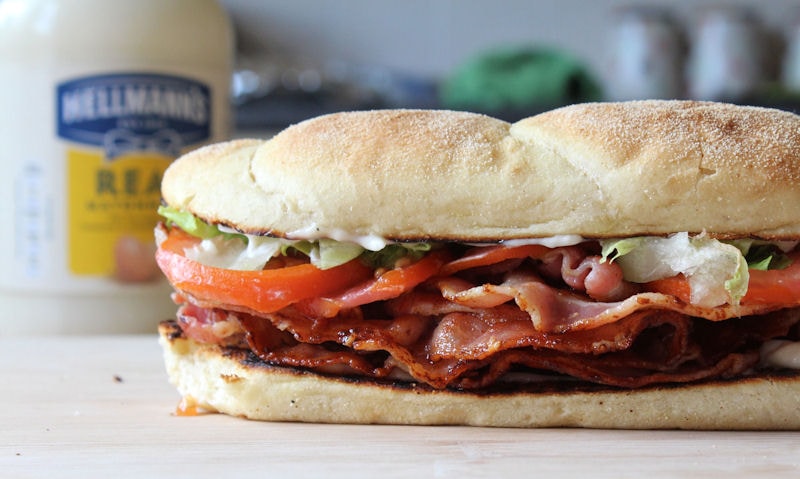 BLT Sub Recipe
This bacon lettuce tomato sub consists of freshly cooked, still warm unsmoked back bacon, juicy tomato slices and shredded crunchy Iceberg lettuce.
A BLT sub roll using cooked back bacon out of the grill pan with a butter toasted plain white sub, still warm.
This recipe calls for quick assembly, so have your four tomato slices and shredded Iceberg lettuce prepared and ready to be stacked.
Now you're going to need to cut open a sub roll across the middle, lengthways.
Then butter and toast the inner side of each sub slice - in a grill pan - until the butter has melted and a bread has turned nice and golden.
After you've prepared the sub roll, clean the grill pan of bread crumbs and cook up to six - yes 6 rashers for one - for up to 5 minutes, constantly turning over for even, crispy cooked bacon.
PREP:
5 MIN.
COOKING TIME:
10 MIN.
SERVINGS:
1
INGREDIENTS
1 Soft White Sub Roll
6 Unsmoked back bacon
2 tbsp. Hellmann's Real Mayonnaise
1 tbsp. Soft spreadable butter
4 Tomato slices
1 Iceberg lettuce leaf, shredded
INSTRUCTIONS
1
Begin be ripping off one Iceberg lettuce leaf and shred, along with 4 tomato slices - stand aside for later
2
Cut open your plain white sub roll and lightly butter each side like you would any sandwich
3
Pop the sub slices face down in a pre-heated, hot grill pan and cook the undersides for up to five minutes, or until they've lightly toasted and golden
4
Remove the sub rolls and clean the grill pan of any bread crumbs left behind, failing to clean the pan will course the crumbs to burn and pop when cooking bacon
5
Try to fit all six unsmoked back bacon rashers in a large grill pan, and cook for five minutes until the bacon has grill marks and the rind has gone crispy
6
At the end of this cooking process, pop over to your chopping board and place two big dollops of mayonnaise on each sub slice, spreading to edges
7
Then bring your freshly cooked back bacon right out of the pan and stack on to the bottom sub slice - it helps to use tongs
8
Finally, on top of the bacon layer four tomato slices and sprinkle on your shredded lettuce, add more to the top sub roll slice, using the mayo as an adhesive
9
Top the sandwich with the top slice, being careful not to spill the high filling, serve right away well the bacon is hot and the bacon fat penetrates the chilled ingredients
NUTRITIONAL DETAILS:
Calories: 965
Fat: 64.8g
Salt: 9.6g
Carbs: 52.7g
Protein: 72.2g
Fibre: 4.1g
Energy: 1787kJ
TIPS & ADVICE
Cook three bacon rashers at a time if all six don't fit in the grill pan. You can then pop the first lot back in the oven towards the end of cooking time - 5 minutes - to reheat.
SHARE THIS RECIPE: