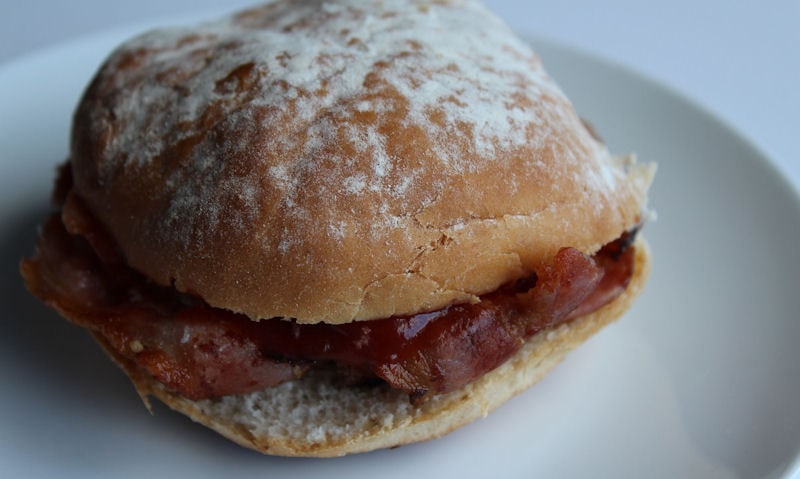 Bacon Bap Recipe
Breakfast inspired bacon roll with rashers of unsmoked - pan fried - bacon in a flour topped soft white roll with lots of tomato ketchup.
Reduce the hassle of cooking breakfast in the morning with this quick and easy bacon bap.
This combines the saltiness of the unsmoked bacon in a soft floury roll, with a spread of butter and plenty tomato ketchup for the sweetness.
PREP:
2 MIN.
COOKING TIME:
5 MIN.
SERVINGS:
1
INGREDIENTS
1 White flour topped soft roll (also known as; bap)
3 unsmoked bacon rashers
2 tbsp. tomato ketchup, large heap
Butter, optional
INSTRUCTIONS
1
Simply start by cutting all the way through a soft white bap with a knife and open it up on a plate
2
On the top slice dollop 2 big tablespoons of tomato ketchup, on the bottom slice add butter if you like
3
Heat up a frying pan - with no oil - for 1 minute on a medium heat and place 3 bacon rashers in the pan - at this point there should be a loud sizzle sound
4
During this 5 minute cooking time, continue to use the back side of a spatula by pressing down on the bacon rashers for even crispy rashers
5
Once cooked, remove from frying pan with a fork, and place directly onto the tomato ketchup side
6
Close it up and press down, and finally enjoy your bacon roll well its still hot
NUTRITIONAL DETAILS:
Calories: 416
Fat: 19.1g
Salt: 5.3g
Carbs: 38.1g
Fibre: 2.2g
Energy: 1739kJ
SHARE THIS RECIPE: