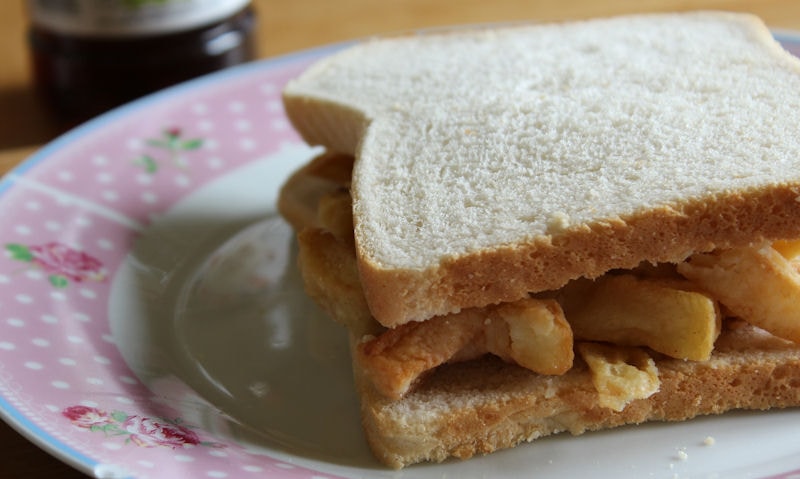 Chip Butty Recipe
Traditional English sandwich made with yummy greasy chips and a spread of ketchup or brown sauce.
A chip butty can be made for the sole purpose of making this classic English sandwich or simply use chip shop chips to make the sarnie as your eating your chips at home.
Home made chip butties don't work as well as chippy chips but a bunch of your favorite home made or oven chips will be something else.
To finish of your yummy greasy chip butty (as it should be) a classic choice of condiments should be added such as ketchup or brown sauce like HP or Daddies.
Just be sure your chips are already salted before making the sandwich.
PREP:
4 MIN.
COOKING TIME:
18 MIN.
SERVINGS:
1
INGREDIENTS
2 slices of medium cut white bread
Handful of freshly cooked salted chips
Butter, optional
Heinz Tomato ketchup, HP sauce or Daddies
INSTRUCTIONS
1
You have two options to make the chip butty for one. Either make one sandwich with both pieces of bread, or make two half sandwiches. Folding over, but not cutting the sandwich in half is the traditional way
2
With a butter knife spread some tomato ketchup or brown sauce on the bottom piece of medium slice white bread. You may also prefer to squirt your sauce on the chips as you've placed them on the bread
3
Simply add a pile of chips from your oven, fryer and sprinkle on some salt (if chip shop chips they may already be salted) and pile on to the medium white bread
4
Eat right away with your plate of chips before they go cold
TIPS & ADVICE
Be sure to add salt and vinegar (if you choose to) before placing your chips on the bread. Sprinkling salt or vinegar directly on to the bread produces a salty and a soggy vinegar bread.
SERVING SUGGESTIONS
The most convenient way of trying a chip butty would be to simply use a few chips off your dinner plate. If the meal won't fill you up a couple of pieces of bread eaten with chips should do the trick.
SHARE THIS RECIPE: