Caramelize Onions & Steak Ciabatta Recipe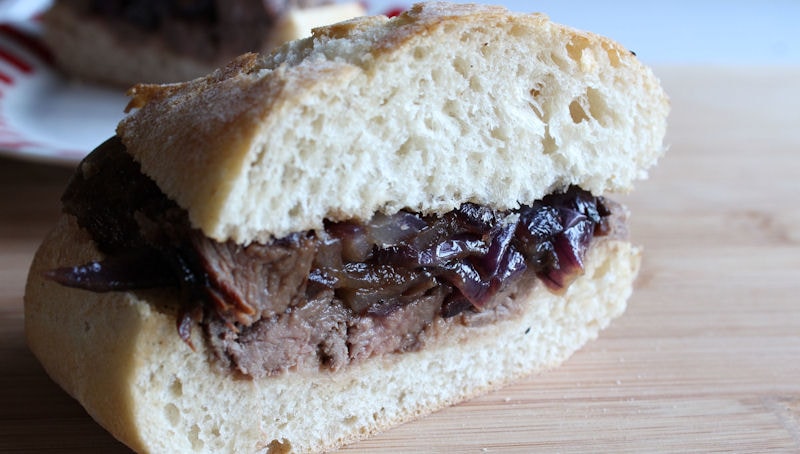 Caramelize Onions & Steak Ciabatta Recipe
Garment style medium rare rump steak with caramelized red onions on a warm buttery ciabatta. Conditments are optional but a Dijon mustard is a good suitor.
This steak sandwich requires a lot of preparation work, and the need to cook the onions, steak and ciabatta so its all timed together.
Get the caramelized red onions finished, then cook the steak before warming through the ciabatta roll.
COOK THE CARAMELIZED ONIONS
Learn to caramelize red onions in more detail, but for a quick explanation, here's how:
Slice 2 red onions and separate the rings; add a tablespoon of olive oil to pan and cook onions on medium heat for 5 minutes; then add tablespoon of brown sugar and balsamic vinegar - mixing thoroughly.
Then reduce to a low heat and continue to toss the red onions for up to 25 minutes until the onions have browned and the texture looks sticky.
When done, add to bowl and keep warn well you cook the steak and prepare the ciabatta.
HOW TO COOK THE STEAK
Baring in mind we're using a medium size rump steak, cooking time can vary but use our timing as a target.
To cook the steak, we first took it out of the fridge for at least an hour to bring it to room temperature - then season with salt and pepper.
Then with a frying pan we brought it up a to high heat with a tablespoon of olive oil, then seared both sides for no more than a minutes on each side - well using a spatula to press down so the steak sears evenly.
Then add to a preheated oven - GAS MARK 4 - for 8 minutes, then remove, and cut 2mm slices.
PREPARE THE CIABATTA
Not much to do to prepare the ciabatta, simply cut in half like you do with any sandwich and spread in butter, optional.
But if you grill on the frying pan before cooking the steak, you'll create a nice seal well improving the taste.
Either way, its probably best to heat through the ciabatta for best results. Well the steak is cooking in the oven as explained above, for the final 4 or 5 minutes of cooking time, add the ciabatta to the oven.
PREP:
15 MIN.
COOKING TIME:
28 MIN.
SERVINGS:
1
INGREDIENTS
1 8oz Rump steak, or 250g
1 Ciabatta roll
2 Red onions sliced
3 tbsp. Olive oil
1 tbsp. Brown sugar
1 tbsp. Balsamic vinegar
Salt and pepper to season
INSTRUCTIONS
1
As explained in detail above caramelize the onions first by frying in pan with tablespoon of oil, then add tablespoon of brown sugar and balsamic vinegar and continue to cook for 25 minutes
2
Again, well explained above, add a tablespoon of olive oil to a frying pan and sear the steaks on both side for 1 minute each - then add to oven for 8 minutes at Mark 4
3
Prepare the ciabatta roll by cutting in half, spreading in butter and heating through the roll in the oven, a long with the steak for 4 minutes
4
Remove steak from oven, slice, and pour on oil from the tray - add to bottom ciabatta roll slice
5
Then use as many of the warm caramelized red onions as you need - a little more than half should do it
6
Finally close up the ciabatta roll and serve well its still hot
NUTRITIONAL DETAILS:
Calories: 1496
Fat: 68.3g
Salt: 2.2g
Carbs: 123.3g
Protein: 69.8g
Fibre: 14.2g
Energy: 6230kJ
SHARE THIS RECIPE: