Cheese & Bacon Sandwich Recipe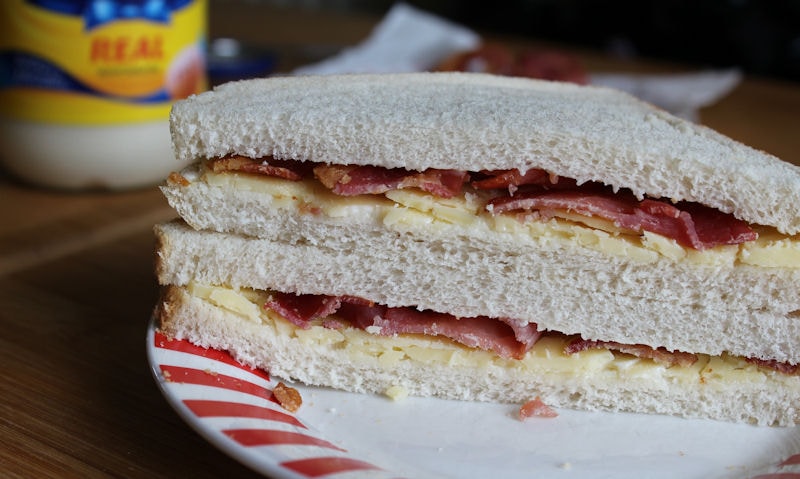 Cheese & Bacon Sandwich Recipe
A creamy mature Cheddar cheese with rashers of quality bacon provides lashes of flavors from very simple and little ingredients.
Simple to make the cheese and bacon sandwich consists of just the simplest of fillings.
With a creamy mature Cheddar cheese and the bacon juices sitting in the mayo during chill time in the fridge, the marination produces a strong creamy cheese mayo with the bacon juices blended in.
You'll need a good quality bacon to reduce the amounts of fat with a fine English mature Cheddar.
Keep the sandwich moist with mayonnaise on the top and bottom piece of bread.
INGREDIENTS
2 slices medium cut wholemeal bread
4 slices of mature Cheddar cheese
3 rashers of unsmoked back bacon
2 tablespoons Hellmann's mayonnaise
INSTRUCTIONS
1
Begin by frying your bacon in a hot frying pan with NO oil added. Allow the bacon to cook in its own fat it will produce during cooking time. Give each side at least 2 minutes, just enough time to allow the rind to crisp (cooking times will vary). Once cooked place your bacon on kitchen paper to allow some fat to soak up as it cools down
2
Once the bacon is cold (do not fridge), smother each tablespoon of Hellmann's mayonnaise on the two slices of wholemeal bread
3
Cut 4 slices of mature Cheddar cheese (sliced 2mm thick) so it completely covers the bottom half of the bread
4
Place 3 rashers of bacon directly on top of the cheese evenly placed and presentable but don't let the bacon protrude from the edges
5
With the top piece of bread with mayonnaise close up your sandwich by lightly pressing down
6
Best served wrapped up in saran wrap and chilled in the refrigerator for at least 1 hour
TIPS & ADVICE
Use both mature or mild Cheddar cheese but white bread works just as well. You may also like to add a few vegetables such as sliced tomato, cucumber and Iceberg lettuce to give the sandwich a crunch.
SERVING SUGGESTIONS
Should really be made as a tasty snack but you can produce two sandwiches for lunch by doubling the ingredients.
SHARE THIS RECIPE: