Cheese & Branston Pickle Sandwich Recipe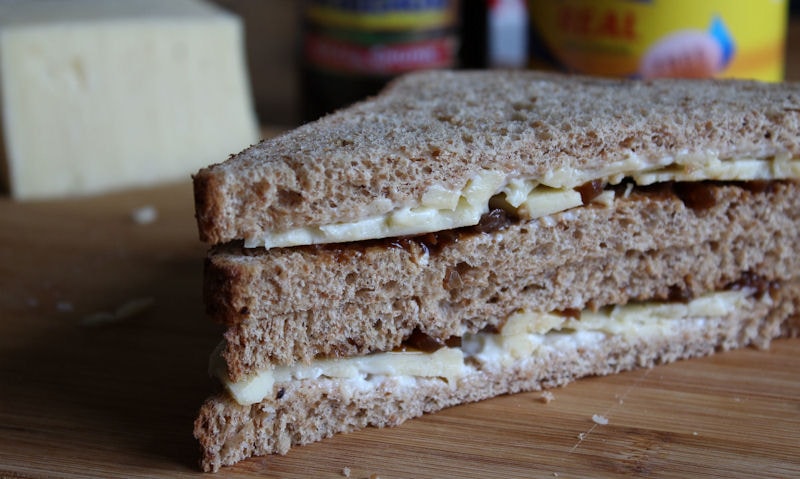 Cheese & Branston Pickle Sandwich Recipe
Select a good quality mature Cheddar cheese with a spread of small chunk Branston pickle and a little mayonnaise, and you'll have yourself a tangy cheese and pickle delight.
If you like, this recipe is a reduced version of a Ploughman's sandwich, but without the salad.
If there is any Branston pickle sandwich you have to make, try this simple but very tasty combination, thanks to sweetness of the Cheddar and the tangy pickles of the Branston.
INGREDIENTS
2 slices medium cut wholemeal bread
84g mature Cheddar cheese
1 tbsp. Branston small chunks pickle
1 tbsp. Hellmann's real mayonnaise
INSTRUCTIONS
1
Lay out two pieces of slice medium thick wholemeal bread side by side
2
On the one slice spread an even coating of 1 tablespoon of Branston pickle
3
On the second slice spread 1 tablespoon of Hellman's mayonnaise covering all areas
4
Cut 2mm thick mature Cheddar and lay it evenly over the slice of bread with the pickle
5
Take your mayo slice of bread and place on top of cheese and pickle slice
6
Ready to eat now but best when allowed to chill in the fridge for 1 hour, wrapped in saran wrap
NUTRITIONAL DETAILS:
Calories: 695
Fat: 23.11g
Salt: 1.65g
Sodium: 644mg
Carbs: 46.2g
Protein: 16.58g
Fibre: 3.43g
Energy: 1458kJ
SHARE THIS RECIPE: