Cheese & Coleslaw Sandwich Recipe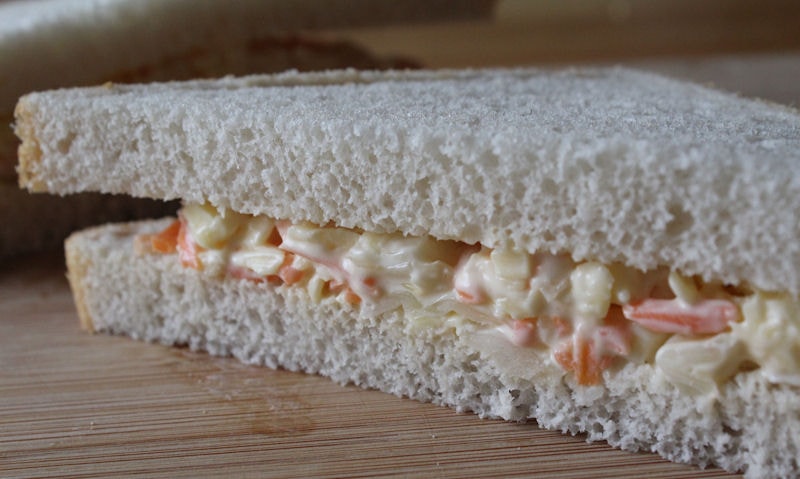 Cheese & Coleslaw Sandwich Recipe
A simple British classic mature Cheddar cheese and coleslaw sandwich in a medium cut white bread.
This easy to make sandwich includes two main ingredients and can be produced at very little expense.
The cheese and coleslaw sandwich includes slices of thick cut mature cheddar cheese and plenty of coleslaw directly from the shop, so there's no need to make the coleslaw yourself.
Added ingredients include Iceberg lettuce for a crunch to your sandwich.
INGREDIENTS
2 slices of medium cut white bread
Mature Cheddar cheese
Coleslaw
Iceberg lettuce
INSTRUCTIONS
1
Cover the bottom piece of white bread with a generous amount of thick cut slices of mature Cheddar cheese
2
With a tablespoon add three dollops of a quality coleslaw directly over the cheese
3
Add a couple of leaves of Iceberg lettuce for an added crunch
4
Finally, close the sandwich with the top piece and eat sandwich right away
TIPS & ADVICE
Make the cheese and coleslaw sandwich less messy by grating the cheese and mixing it into the coleslaw.
SERVING SUGGESTIONS
The sandwich makes the ideal quick snack and can be made in a matter of minutes. The sandwich will also go well with the kids school lunch box.
SHARE THIS RECIPE: