Cheese & Tomato Sandwich Recipe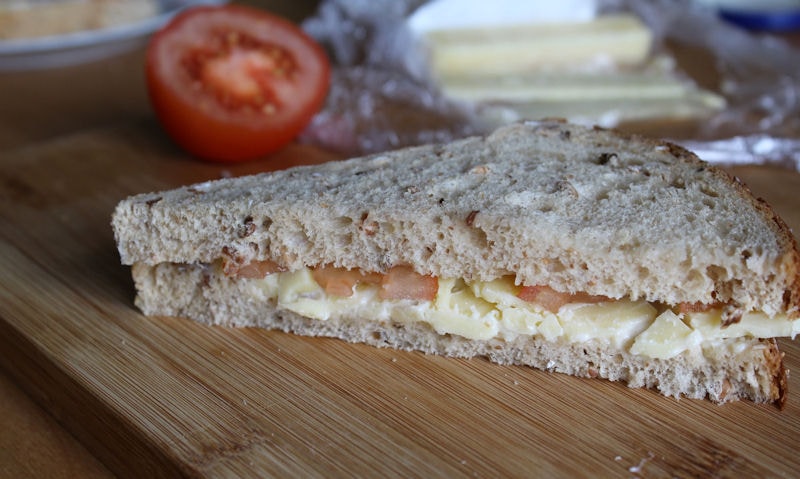 Cheese & Tomato Sandwich Recipe
Creamy cheese tomato sandwich consists of just that - a mature Cheddar with pat dried tomatoes with mayo in a wholemeal bread.
Who would of thought just two ingredients could combine so well - and they so with this creamy cheese and tomato sandwich.
All it takes it a few cuts of Cheddar with five slices of tomato and mayo to bring it together. You can substitute the mayo for a light spread of butter.
INGREDIENTS
2 slices Hovis Wholemeal Thick Bread
90g mature Cheddar cheese, or 3 large slices to cover bread
5 slices tomatoes, thin cut
1 tbsp. Hellmann's Real Mayonnaise
INSTRUCTIONS
1
Let's start by laying one slice of bread down and spreading 1 tablespoon of Hellmann's mayonnaise - reaching all the sides and corners
2
Weight 90g, or better still, cut 3 slices of a deli counter mature Cheddar cheese covering the whole bread
3
Cut 5 slices off a standard juicy salad tomato which should be about half a tomato
4
Before adding to sandwich, pat residue off tomato using some kitchen paper to avoid the bread getting soggy
5
Then position the tomato two by two and place the fifth tomato slice right in the center
6
That's it you'll done, cover the sandwich with the second wholemeal bread slice and chill in the fridge before serving
NUTRITIONAL DETAILS:
Calories: 693
Fat: 45.2g
Salt: 2.6g
Carbs: 36.5g
Protein: 33g
Fibre: 6.8g
Energy: 2880kJ
SHARE THIS RECIPE: