Chicken, Bacon & Avocado Sandwich Recipe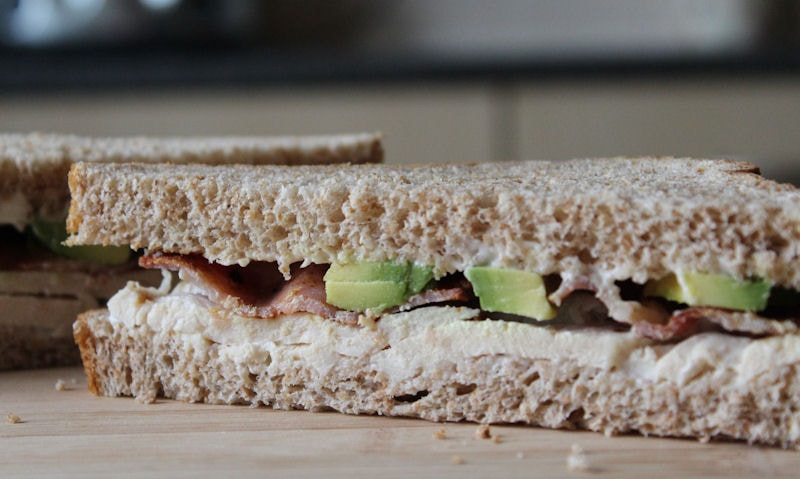 Chicken, Bacon & Avocado Sandwich Recipe
If you haven't tried an avocado sandwich before, then there's no better time to try it, paired up with everyone's favorite chicken and bacon - with the avocado in place of the salad.
Simple but highly effective chicken avocado sandwich with the roast chicken and bacon flavor still their, and finally the firm bite of the ripe avocado with a hint of a nutty taste.
And well the mayonnaise will help all the flavors combine with every mouth full.
PREP:
10 MIN.
COOKING TIME:
4 MIN.
SERVINGS:
1
INGREDIENTS
2 Medium cut farmhouse wholemeal bread slices
½ Hass avocado, sliced
100g Cooked 'ready to eat chicken breast chunks
2 Unsmoked back bacon rashers
2 tbsp. Hellmann's Real Mayonnaise
1 tsp. Lemon juice
Pinch of pepper
INSTRUCTIONS
1
Add a tablespoon of mayonnaise, teaspoon of lemon juice and a pinch of pepper to a mixing bowl, mixing ingredients thoroughly
2
Lay two slices of farmhouse wholemeal bread side by side on the chopping board and cover one slice with all your mayonnaise and lemon dressing
3
On top of the dressing layer on up to 100g of cooked roast chicken chunks
4
On top of the chicken position your unsmoked back bacon side by side
5
Finally position all your avocado slices over the bacon doing your best to fill the gaps
6
Before closing the sandwich, add one more small tablespoon of mayonnaise to the other slice of bread and cover, cut in half and serve
NUTRITIONAL DETAILS:
Calories: 636
Fat: 54.6g
Salt: 4.9g
Carbs: 36.5g
Protein: 54.5g
Fibre: 9.3g
Energy: 3462kJ
SHARE THIS RECIPE: