Chicken Bacon Ranch Sub Recipe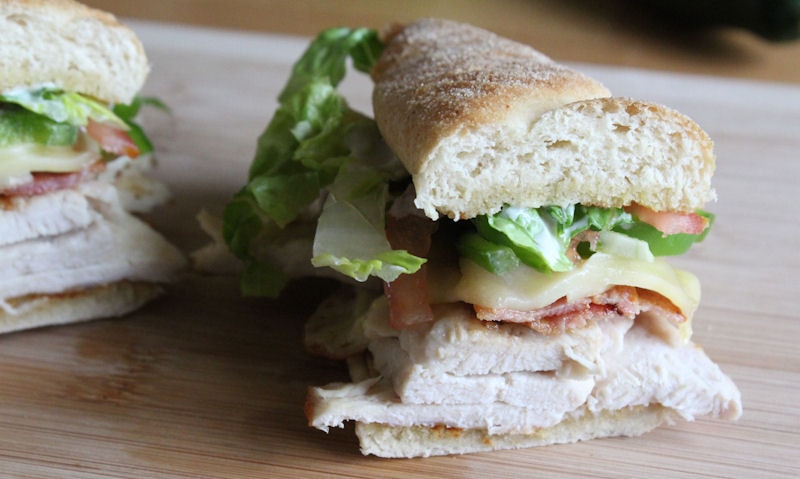 Chicken Bacon Ranch Sub Recipe
Incredibly tasty, mouth watering chicken bacon ranch sandwich consisting of cooked bacon and chicken with melted Cheddar and an assortment of freshly sliced vegetables.
This is probably the best chicken sandwich you will ever try. When you combine the melted Cheddar with freshly cooked hot chicken straight out of the pan, that is flavor in itself.
But top that with bacon and veg and you have a winner. But its not a chicken ranch sandwich without Newman's ranch dressing that brings this sub together.
Prepare the sub rolls
Before you do anything else so you don't get in a panic later, you'll need to toast the cut sides of your sub.
Begin by slicing a sub roll in half as you do, butter both sides, and pop in your grill on a high heat to toast the insides.
Then leave this to stand in preparation for the sandwich to be assembled.
Cook the bacon in advance
Cook up the bacon well in advanced, like the cheese, it will be cooked in the grill pan with the chicken, well the cheese melts and the bacon is re-heated again.
This method will activate the bacon fat and make it taste better again.
Prepare the vegetables
As there's so much that goes into the sandwich you'll have little time to assemble it before it cools down.
Be sure to slice up all the veg and have them ready laid out on a plate with a jar of Ranch dressing on stand by.
Last minute assembly time
So, once you've re-cooked the chicken pieces in the oven - covered in foil - move them directly into your pre-heated grill pan.
This is when you'll push the chicken pieces to the side - in a similar shape to the sub roll - and pile on the bacon and Cheddar slices.
You'll need to speed up this process so the chicken doesn't over cook and dry out.
So if you don't have a lid for your pan, cover the pan with aluminum foil and press down around the edges to create a seal and trap the heat, so the cheese melts quickly.
Always press down and remove the foil with your hands covered using oven proof mittens or a dish towel.
PREP:
15 MIN.
COOKING TIME:
30 MIN.
SERVINGS:
1
INGREDIENTS
1 Plain white sub roll
2 tbsp. Newman's Own ranch dressing
180g Chicken breast pieces
2 Mild Cheddar cheese slices, cut-to-fit sub roll
2 Unsmoked back bacon rashers
3 Green pepper slices
3 Tomato slices
4 Cucumber slices
1 Romaine lettuce leaf
2 tbsp. Spreadable butter
INSTRUCTIONS
1
You'll need to follow the cooking instructions on your chilled chicken packet, but if you cover the chicken in foil and pop in the oven for 20 to 25 minutes at Gas Mark 6, this should be enough to cook through
2
Well the chicken is cooking in the oven, cut 3 green peppers slices, 3 tomato slices, 4 cucumber slices and shred 1 romaine lettuce leaf - and place all on a plate
3
Again, in the short window you have, cut the sub roll lengthways, butter both sides and pop in a pre-heated grill pan - butter sides down - and cook until toasted
4
Clean the grill pan of the toasted sub bits and pop in 2 unsmoked bacon rashers, pressing down with a spatula for 3 minutes or so on each side until lightly crispy with grill marks
5
In preparation for the chicken coming out of the oven and into your grill pan, clean the pan of the bacon fat left behind so its nice and clean again
6
Here we go, take the chicken pieces out of the oven and pile into the grill pan on a high heat
7
Quickly pile the chicken pieces to the one side of your pan in the shape of your sub roll - use the sub roll as a reference if you like but be quick
8
Then on the chicken pop on two rashers of pre-cooked bacon and quickly top with slices of Cheddar making sure it will fit in the confines of your sub roll
9
Rip off enough aluminum foil so it fits your grill pan by making a makeshift lid to create an air tight seal to trap the heat underneath
10
After one minute check to see if the cheese has melted enough but recover if it needs more time
11
Remove the foil lid by protecting your hands from the heat, created from the seal and now slide the chicken, bacon and cheese onto the bottom sub slice
12
In theory, the cheese should keep the ingredients stuck together, but if it doesn't just try your best to get it on the sub roll as cleanly as possible
13
On the top sub roll slice, pour on one tablespoons worth of Newman's ranch dressing, but use more if your sandwich requires it
14
Then directly on the melted cheese, pop on your green pepper, tomato, cucumber and shredded lettuce leaf
15
Finally, pop on the top sub roll slice, cut in half and eat right away well it still hot
NUTRITIONAL DETAILS:
Calories: 1075
Fat: 46g
Salt: 6g
Carbs: 58g
Protein: 88g
Fibre: 4.7g
Energy: 3247kJ
SHARE THIS RECIPE: