Chicken & Bacon Wrap Recipe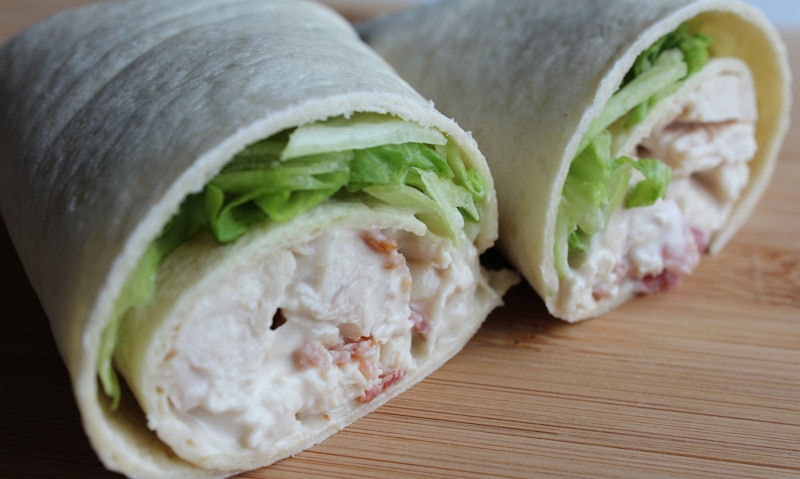 Chicken & Bacon Wrap Recipe
Well first stumbled upon in a supermarket sandwich fridge, this replicates their own version right down to the texture and taste.
This chicken and bacon wrap is made with packet roast chicken chunks cut down into smaller, manageable pieces, well the unsmoked back bacon is cut down into small bits and mixed into the chicken and mayonnaise mixture.
Its then rolled into a tortilla wrap with the bacon, chicken and mayonnaise sharing one compartment, and the lettuce wrapped tightly in its own section.
INGREDIENTS
1 Plain white tortilla wrap, 10 inches
65g Cooked roast chicken breast chunks
1 Unsmoked back bacon rasher, cooked
1 tbsp. Hellmann's Real Mayonnaise
1 Iceberg lettuce leaf, shredded
INSTRUCTIONS
1
Before you do anything else, cook one bacon rasher in a dry pan until crispy - but not crunchy - and allow to cool
2
Now cut up 65g large chicken chunks into smaller cubes so they are easily spreadable
3
Use a knife or scissors to cut up your bacon rasher into small pieces
4
In a mixing bowl, throw in your chicken chunks, bacon piece and a tablespoon of Hellmann's mayonnaise - season with salt and pepper if necessary
5
Mix all three ingredients together thoroughly and set a side
6
Lay one plain white tortilla wrap on a chopping board and thrown on all your mix to the side closest to your body - 1 inch away from the edge - well covering a quarter of the wrap with the filling
7
Fold wrap over filling tightly, spread shredded lettuce leaf on the fold, tuck in edges continuously until the whole thing is wrapped
8
Chill in fridge or serve right away
NUTRITIONAL DETAILS:
Calories: 427
Fat: 21g
Salt: 2.7g
Carbs: 33.8g
Protein: 30.1g
Fibre: 2.4g
Energy: 1784kJ
SHARE THIS RECIPE: