Chicken Caesar Salad Wrap Recipe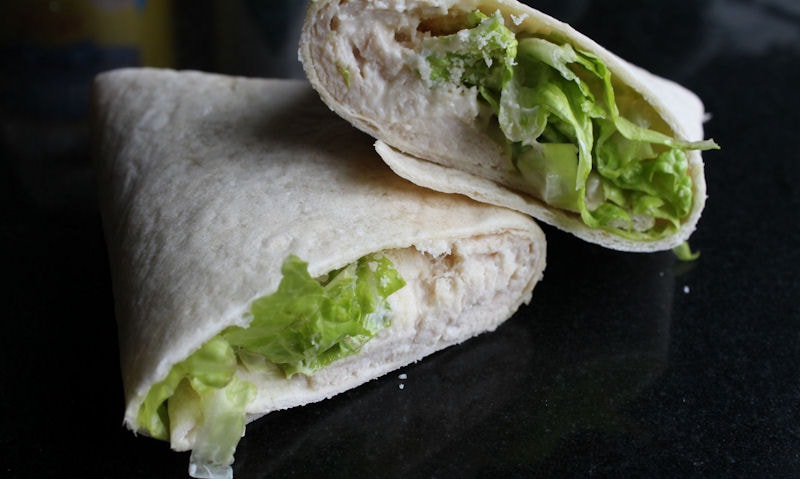 Chicken Caesar Salad Wrap Recipe
Take the caesar salad from your plate and turn it into a tasty wrap. All you need is chicken, romaine lettuce and Parmesan - but this recipe excludes the croutons.
Well similar to a chicken caesar wrap you may find in store, this chicken caesar salad wrap recipe stays true to the original ingredients.
And as croutons are a little crunchy and make an uncomfortable bite, we've left them out, but the remaining filling makes for a tasty snack.
INGREDIENTS
1 White plain tortilla wrap
80g Cooked sliced chicken
1 tbsp. Hellmann's Real Mayonnaise
1 tbsp. Caesar dressing
1 tbsp. Parmesan cheese, finely grated
1 Leaf romaine lettuce, shredded
INSTRUCTIONS
1
Begin be adding 60 to 80 grams of chicken slices into a mixing bowl - slicing down the bigger chunks if you have to
2
Throw in a big spoonful of mayonnaise and mix in the with chicken thoroughly
3
Then take one leaf of romaine lettuce, fold it over and slice it into thin strips - and set aside
4
Lay out one tortilla wrap and throw on all your chicken and mayo mixture on to one half of the wrap, but leave 1 inch from the side
5
Pour on one tablespoon of caesar dressing over the chicken, then a big spoonful of finely grated Parmesan cheese - and finally the spread over lettuce
6
To fold the wrap, take the filling side and fold it over to an inch on the opposite side, fold in the left and right side - then fold over again so the wrap edges are tucked in underneath
7
What your left with is a flat, rectangular wrap that can be cut through the middle before serving
NUTRITIONAL DETAILS:
Calories: 479
Fat: 23.1g
Salt: 2.17g
Carbs: 34.6g
Protein: 27g
Fibre: 3.4g
Energy: 2000kJ
SHARE THIS RECIPE: