Chicken Caesar Wrap Recipe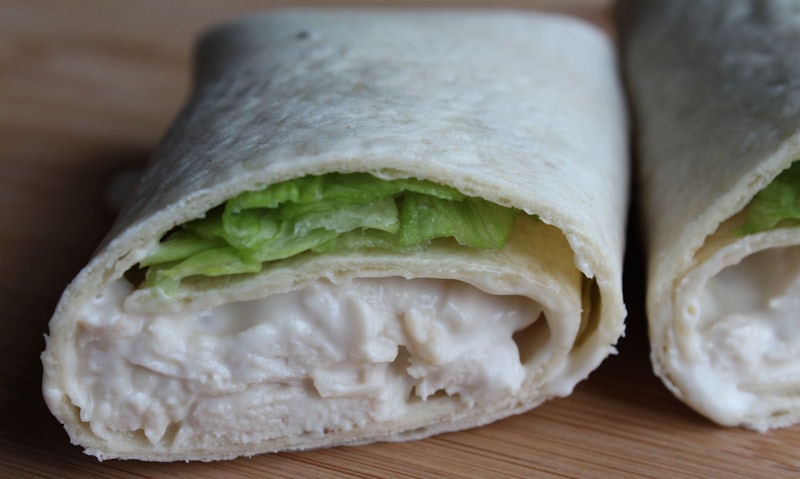 Chicken Caesar Wrap Recipe
Roast chicken chunks mixed in a caesar style dressing, wrapped up nice and tight in a plain tortilla wrap with a leaf of Iceberg lettuce.
That's basically all that's needed to create this chicken caesar wrap recipe - and don't worry - its not very difficult to roll up a tortilla.
If you mix up the chicken, mayo and caesar dressing in a small batch like our recipe outlines below - this will give you plenty of space to wrap the filling.
Once the caesar wrap is assembled you'll end up with the chicken and sauces in one compartment, and the lettuce in its own producing a nice clean presentation.
INGREDIENTS
1 plain white tortilla wrap, approximately 10 inches
65g ready to eat roast chicken breast pieces
1 tbsp. Hellmann's Real Mayonnaise
1 tbsp. caesar style dressing
1 Iceberg lettuce leaf
INSTRUCTIONS
1
Take 65g, or half a pack of 'ready to eat' roast chicken breast pieces and add to a mixing bowl
2
Then add 1 tablespoon of Hellmann's mayonnaise to the bowl also
3
Again, take another - smaller heap - tablespoon of caesar style dressing and add to the mixing bowl
4
Thoroughly mix the mayonnaise, caesar dressing and chicken pieces together
5
Take 1 Iceberg lettuce leaf, scrunch it up and chop with a knife so it looks shredded
6
Place a single plain white tortilla on the chopping board and spread on all the mix to the edge closest to you - about an inch away from the edge of the wrap
7
Fold over the wrap enough to cover over the mixture, add your Iceberg lettuce down the length of the mixture and begin folding over the wrap nice and tightly
8
Half way through the folding process, fold in both ends and seal them tight with the last two fold over's
9
Finally seal the wrap in saran wrap and refrigerate for an hour, cut in half and serve
NUTRITIONAL DETAILS:
Calories: 417
Fat: 21.6g
Salt: 1.4g
Carbs: 33.9g
Protein: 20.5g
Fibre: 2.5g
Energy: 1741kJ
SHARE THIS RECIPE: