Chicken Mayonnaise Sandwich Recipe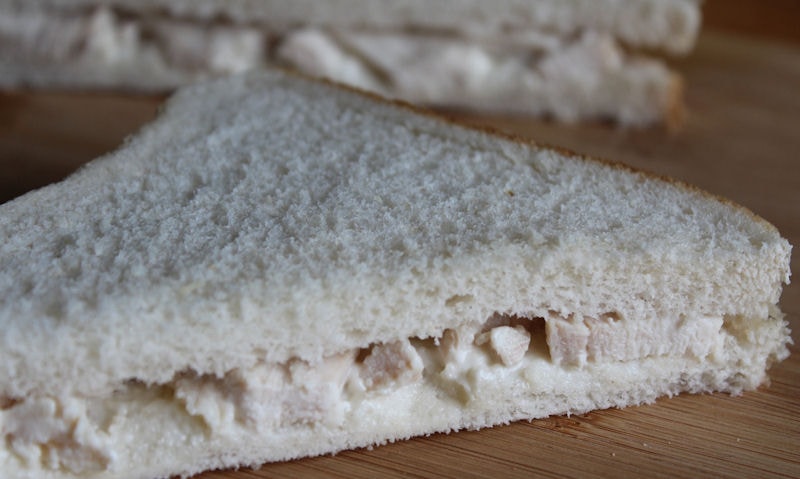 Chicken Mayonnaise Sandwich Recipe
Basic sandwich filling with only chicken and mayo used, served in a simple, medium cut white slice bread.
Why should a chicken sandwich be so difficult, in this one you'll only need a big tablespoon of Hellmann's mayonnaise and a few pieces of chicken.
Well this chicken mayo sandwich is best served in a white bread, reducing the ingredients will result in a lighter, healthier choice.
INGREDIENTS
2 slices medium cut white bread
65g ready to eat sliced roast chicken breast
1 tbsp. Hellmann's real mayonnaise, big heap
INSTRUCTIONS
1
Begin by laying 2 slices of white bread side by side on a chopping board
2
On one slice of bread dollop 1 tablespoon of Hellmann's mayo and spread evenly, reaching out to the edges
3
Take 65g of pre-packed cooked chicken breast and cut the large pieces down to smaller to 2cm pieces and lay evenly, directly on the mayonnaise
4
Cut diagonally, cover with saran wrap and refrigerate for up to one hour before eating
NUTRITIONAL DETAILS:
Calories: 362
Fat: 13.7g
Salt: 1.33g
Carbs: 37.2g
Protein: 22.2g
Fibre: 0g
Energy: 1521kJ
SHARE THIS RECIPE: