Chicken Salad Baguette Recipe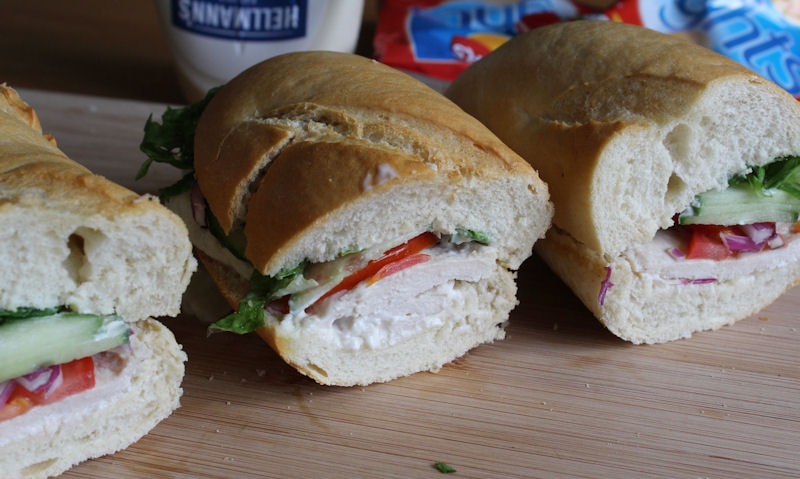 Chicken Salad Baguette Recipe
This is one big chicken salad baguette, so why not divide it into three, creating a sandwich for the kids lunch box or a quick snack - served with ready salted potato chips.
Take a bulky crisp and crunchy fresh baguette from the bakery, cut it enough to create a lid and fill it up with roast chicken and salad.
To make it you'll need spoonfuls of mayonnaise and on the top and bottom side. Then build the sandwich with chicken, tomato, red onion, cucumber and lettuce.
You can then close it up and divide it evenly into three portions. To make a real meal from the baguette serve it with Walkers ready salted potato chips.
PREP:
10 MIN.
SERVINGS:
1
INGREDIENTS
1 White baton - 12 inch, from the bakery
100g Ready to eat sliced roast chicken breast
4 tbsp. Hellmann's Real Mayonnaise
6 Tomato slices
8 Cucumber slices
2 Red onion slices
2 Romaine lettuce leaves, shredded
INSTRUCTIONS
1
Take a small baguette about 12 inches long and cut open lengthways down the side, making sure not to cut it open all the way - just a lid
2
Spread on four big tablespoons of mayonnaise - 2 spoonfuls on the bottom - 2 spoonfuls on the top
3
Then cut 6 slices of tomato and position on top of chicken
4
Cut 2 thick slices of red onion and chop them in half again and spread over tomato
5
You'll need to cut 8 - yes that's right EIGHT - slices of cucumber and layer them over the cucumber, overlapping so each portion gets a enough
6
Take 2 romaine lettuce leaves and fold them over into a small parcel, then slice them 4mm to 5mm thick to create a shredded effect - and spread them over the cucumber
7
Finally close up the baguette, being careful not to spill the ingredients, cut evenly into 3 sandwiches and serve with ready salted potato chips on plate
NUTRITIONAL DETAILS:
Calories: 67
Fat: 48g
Salt: 1.9g
Carbs: 29.5g
Protein: 30g
Fibre: 3.3g
Energy: 2770kJ
SHARE THIS RECIPE: