Chicken Salad Seed Topped Malted Roll Recipe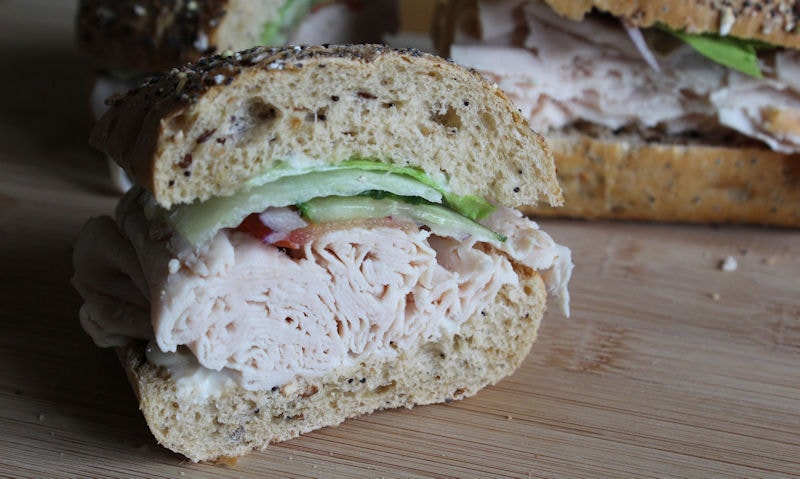 Chicken Salad Seed Topped Malted Roll Recipe
Make good use of wafer thin chicken right out of the packet and bung it all in a deli seed topped malted roll - with mayo and a few veggies.
When made this will make a towering chicken salad roll sandwich consisting of an inch thick pile of wafer thin roast chicken.
You'll then need a few veggies like lettuce, tomato, cucumber and red onion with plenty of mayonnaise so it helps counter the thickness of the malted roll.
To make this sandwich we simply used the vegetables I had available at home, then bought a packet of wafer thin chicken and simply picked up a single roll from the bakery in Tesco.
INGREDIENTS
2 Bakery seed topped malted rolls
125g Tesco wafer thin roast chicken
4 tbsp. Hellmann's real mayonnaise, big spoonful
4 Red onion slice
8 Tomato slices
8 Cucumber slices
2 Iceberg lettuce leaf
INSTRUCTIONS
1
Start by cutting open two seed topped malted roll to make two halves for each roll
2
Lump on 1 tablespoon of Hellmann's real mayonnaise on the bottom piece, and one spoonful of mayo on the top piece - spreading out the mayo evenly on all four slices
3
Rip open your pack of 125g wafer thin roast chicken and pile half on the one bottom slice and the rest on the other bottom slice roll to create an inch thick pile
4
On top of the chicken add 4 tomato slices, then 4 cucumber slices, 2 red onion ring - spread out into smaller rings - and finish off with a Iceberg leaf lettuce
5
Top the chicken salad rolls with your top roll piece and enjoy, but its best served chilled for an hour in fridge
NUTRITIONAL DETAILS:
Calories: 1007
Fat: 116g
Salt: 3.6g
Carbs: 84g
Protein: 64g
Fibre: 11.9g
Energy: 4047kJ
SHARE THIS RECIPE: