Chicken Salad Sandwich Recipe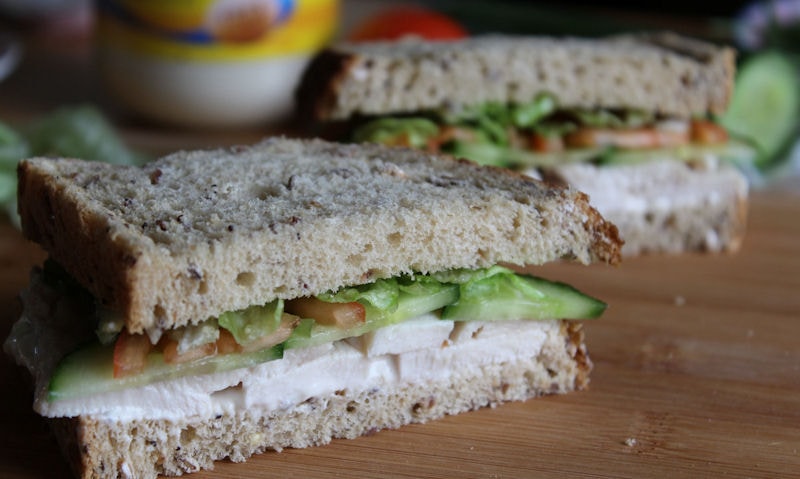 Chicken Salad Sandwich Recipe
Make a fresh and easy chicken salad sandwich with chicken breast pieces smothered in mayonnaise with a freshly cut salad consisting of tomato, cucumber and lettuce.
When it comes to a salad sandwich this one is sure to be a favorite.
This chicken salad sandwich recipe should be made with juicy roast chicken breast mixed in with mayonnaise.
But when you add the sliced tomato, cucumber and crunchy Iceberg lettuce, this combination of ingredients does wonders.
To improve the taste of the finished sandwich, give it an hour to chill in the fridge for the mayo and chicken to combine.
PREP:
10 MIN.
SERVINGS:
1
INGREDIENTS
2 Wholemeal bread slices, thick cut
73g Ready to eat sliced roast chicken breast
1 tbsp. Hellmann's real mayonnaise
5 Tomato slices
5 Cucumber slices
1 Iceberg lettuce leaf, shredded
INSTRUCTIONS
1
Begin by adding 73 grams of chicken breast into a mixing bowl
2
Then add one big tablespoon of Hellmann's real mayonnaise into the bowl and mix with chicken pieces thoroughly
3
Take all the chicken and mayo mixture and pile on one slice of wholemeal bread
4
On top of the mixture add 5 slices of cucumber and 5 tomato slices
5
Rip off a leaf of Iceberg lettuce and fold it multiple times before slicing it with a knife to create long 4-5mm strip - you've now created shredded lettuce
6
Finally finish making the sandwich by adding the top slice of wholemeal bread, cover in saran wrap and put in fridge for an hour before serving
NUTRITIONAL DETAILS:
Calories: 0
Fat: 0g
Salt: 0g
Sodium: mg
Carbs: 0g
Protein: 0g
Fibre: 0g
Energy: 0kJ
Calcium: 0mg
TIPS & ADVICE
Reduce the fat and calorie intake by using half a tablespoon of Greek yogurt and Hellmann's lighter than light mayonnaise
You could also do away with the bread all together and eat the chicken and salad on its own as an incredibly healthy lunch
If your not worried about salt intake, add a tiny pinch of salk and pepper to the chicken and mayo mix to bring out the flavor
Use a wholemeal bread with as little taste as possible, so the salad stands out and not the bread
SERVING SUGGESTIONS
What to serve with chicken salad sandwiches really depends on what you fancy when a sarnie is not enough. But try it with a packet of crinkle salted potato chips.
SHARE THIS RECIPE: