Chipotle Chicken Wrap Recipe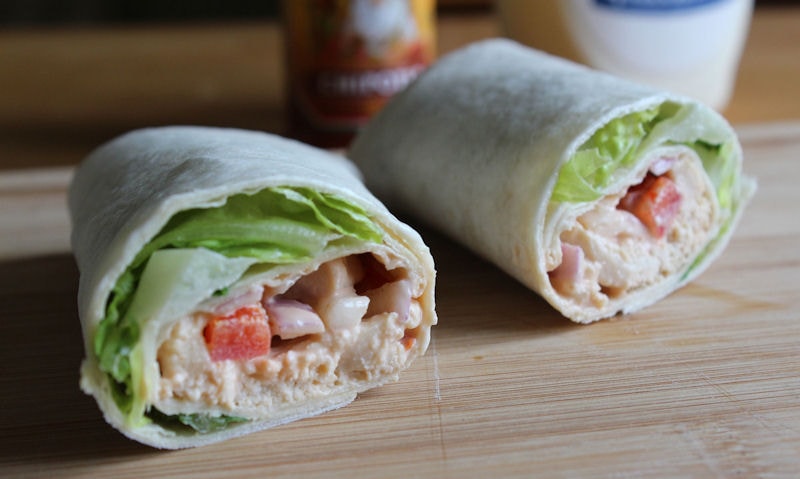 Chipotle Chicken Wrap Recipe
A chili wrap so mild its suitable for all, but with the option to add more chili sauce if you like it hot.
This easy to make Chipotle chicken wrap recipe requires roast chicken pieces mixed in with half and half mayonnaise and Chipotle hot sauce to make a sort of chipotle mayo that goes well with chicken.
Then all you need is a lettuce leaf and a few sprinkles of chopped red onion and red pepper.
Its all kept tidy by wrapping up the chicken and sauce mixture separately from the fresh salad.
INGREDIENTS
1 White plain tortilla wrap
73g Cooked chicken pieces
1 tbsp. Hellmann's Real Mayonnaise
1 tbsp. Cholula Chipotle hot chili sauce, 30g
1 Romaine lettuce leaf, shredded
1 Red onion slice, chopped
1 Red pepper slice, chopped
INSTRUCTIONS
1
Begin be mixing one tablespoon of mayonnaise and one tablespoon of Chipotle hot sauce in a bowl
2
Prepare one leaf of shredded romaine lettuce, 1 slice of red pepper and red onion - both diced in to smaller chunks
3
Now add 73 grams of cooked chicken pieces to the bowl and mix chicken thoroughly in with the sauce
4
Take a plain white tortilla wrap and throw on all the mixture to the bottom side of the wrap, one inch away from the edge
5
Take the side where the filling is placed, and wrap it tightly over once
6
Well holding folded wrap in place with one hand, add lettuce, chopped red pepper and onion down the length of the rolled over wrap - but again one inch away from the edge
7
Then fold over the left and right side, making sure its absolutely square
8
Finally wrap the tortilla the rest of the way so the folds are tucked up underneath to stop it unraveling
9
Cut in half and serve, but best served chill for an hour wrapped in saran wrap
NUTRITIONAL DETAILS:
Calories: 420.5
Fat: 33.5g
Salt: 2.9g
Carbs: 62.1g
Protein: 27.3g
Fibre: 4.6g
Energy: 1752kJ
SHARE THIS RECIPE: