Corned Beef Reuben Sandwich Recipe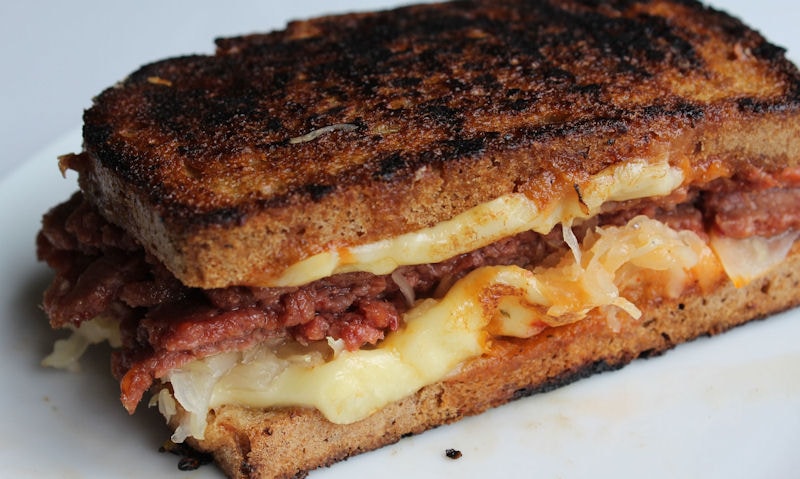 Corned Beef Reuben Sandwich Recipe
Our take on a reuben sandwich has a big Polish influence, with Polski rye bread, Swiss cheese, Thousand Island Dressing and sauerkraut - from Poland.
If you find yourself attempting to make a corned beef Reuben sandwich recipe for the first time, early on you'll realize items are hard to come by when you only have the supermarket to rely on.
For that reason, we've had to look down the Polish isle to find a big jar of sauerkraut, and the bread isle for Polish rye. But generally, the dressing and cheese is widely available.
PREP:
10 MIN.
COOKING TIME:
16 MIN.
SERVINGS:
1
INGREDIENTS
2 slice dark rye bread
200g deli counter corned beef, approximately 5 slices
2 slices Emmental cheese
1/4 cup Dawtona sauerkraut, drained
2 tbsp. thousand island dressing
2 tbsp. butter
INSTRUCTIONS
1
Begin by laying out 2 slices of rye bread side by side, spreading butter on each slice
2
Then turn both rye bread slices over - butter side down - and dollop 2 tablespoons of thousand island dressing, spreading over the rye evenly
3
Take 2 slices of Emmental cheese (swiss cheese), cut them both in half and fit two cut halves on one each slice of rye
4
Then take all your 5 slices of Emmental cheese and cut, shape and size them down until they fit on the rye building up a high stack
5
Make sure the sauerkraut is completely drained well, and spread evenly over the corned beef
6
Once again, take the remainder of your cheese and spread it evenly over the sauerkraut
7
Close the sandwich with the top slice with the thousand island dressing side facing down, and the butter side facing up
8
Bring your grill pan to a medium heat and pop in your reuben - being careful not to tip it over
9
Using a plastic spatula, lightly press down the sandwich for 8 minutes
10
You'll now have to be incredibly digilent not to spill the sandwich well you turn it over and cook the other side for another 8 minutes
11
Then take it out of the pan and enjoy right way well its still hot
NUTRITIONAL DETAILS:
Calories: 868
Fat: 47.4g
Salt: 6
Sodium: 318.6mg
Carbs: 44.7g
Protein: 66.5g
Fibre: 6.1g
Energy: 3602kJ
SHARE THIS RECIPE: