Cottage Cheese, Corn & Spinach Sandwich Recipe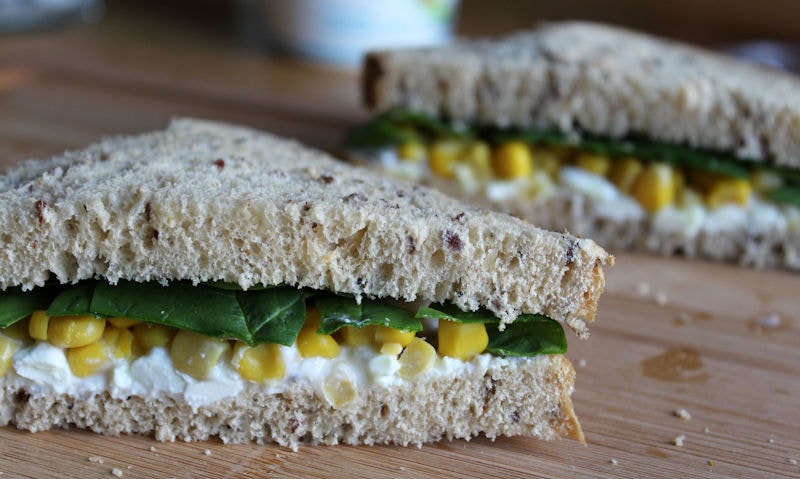 Cottage Cheese, Corn & Spinach Sandwich Recipe
A winner if you're a sweet corn fan, but a lump of cottage cheese and spinach leaves will make it far more interesting with a burst of sweetcorn in cottage cheese.
You can come up with some interesting ideas when you are looking for a new recipes, and this one certainly qualifies.
This spinach and corn sandwich is suitable for vegetarians, with a couple of tablespoons of canned sweetcorn, a spread of low fat cottage cheese and the spinach providing the healthy salad.
INGREDIENTS
2 slices medium wholemeal bread
2 tbsp. canned Green Giant Original Sweetcorn
1 tbsp. low fat cottage cheese, 60g
10g spinach leaves
INSTRUCTIONS
1
Lay 2 slices of medium cut wholemeal bread on the chopping board
2
On one slice spread 1 tablespoon of low fat cottage cheese
3
Then lump on 1 tablespoon of drained sweetcorn right out of the can over the cottage cheese
4
Finally, layer your spinach leaves over the corn, cover, and cut diagonally
5
Refrigerate for up to an hour before serving
NUTRITIONAL DETAILS:
Calories: 269
Fat: 2.16g
Salt: 1.24g
Carbs: 41.9g
Protein: 17.13g
Fibre: 8.36g
Energy: 1135kJ
SHARE THIS RECIPE: