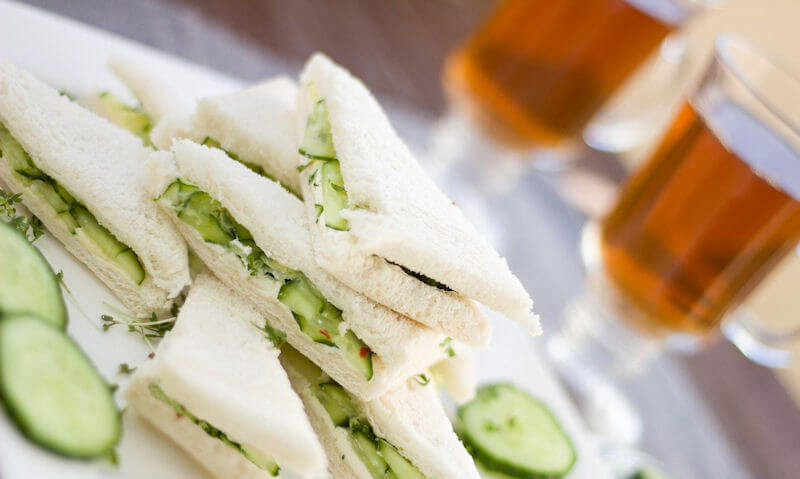 Cucumber Sandwich Recipe
The cucumber sandwich recipe is a simple one comprising of paper thin slices of cucumber layered carefully over a white bread with no overlapping.
This traditional sandwich is often served at tea parties as a light appetizer.
Your basic cucumber sandwich includes only slices of cucumber with a very thin spread of a light butter.
By tradition it is recommended you slice off the crust and cut the sandwich in four quarters, or cut them lengthways to create three finger sandwiches from every cucumber sandwich you serve up.
INGREDIENTS
2 slices medium cut white bread
Cucumber
Butter
INSTRUCTIONS
1
Simply cut nine thin slices of cucumber and drain some of the residue away using paper towel
2
Lightly butter the bottom piece of white bread with a butter knife insuring you cover all corners and edges
3
Carefully place the nine slices of cucumber directly over the buttered slice of bread and cover the sandwich with the top piece of bread
4
With a sharpe bread knife carefully slice off all four crusts insuring you keep the sandwich as tidy as possible
5
Finally, cut the cucumber sandwich in four-quarters or cut lengthways to produce three long finger sandwiches
TIPS & ADVICE
Cucumber sandwiches can go with just about anything but if butter is not your thing, try a light spread of mayonnaise.
SERVING SUGGESTIONS
The cucumber sandwich is a must for your next tea party as a light appetizer. Serve with tea and biscuits.
SHARE THIS RECIPE: