Deli Corned Beef Sandwich Recipe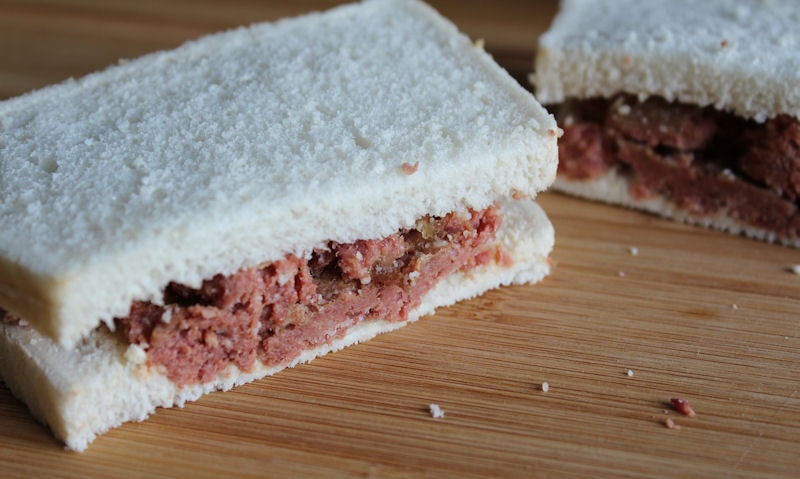 Deli Corned Beef Sandwich Recipe
Make a quick and easy Corned Beef sandwich with only the meat and a layer of soft spreadable butter required.
Not to be confused with Corn Beef, Princes Corned Beef is a very versatile meat that goes well with a full range of condiments.
With the mix of a soft butter and the fat of the corned beef its a real match made in heaven.
To prevent the sandwich being to dry be sure to use a medium (or thin) cut white bread.
INGREDIENTS
2 slices of medium cut white bread
4 slices of Princes tinned Corned Beef (made with 100% beef)
Soft spreadable butter
INSTRUCTIONS
1
Simply take a butter knife and spread a lump of butter on the bottom piece of white bread, being sure to reach all corners of the bread
2
Open up your can of Princes Corned Beef and with a sharpe knife cut 4 slices up to 4mm thick
3
Lay all slices on the bottom piece of bread but if areas are not being covered be sure to use your 4th slice of meat to cover the gaps
4
Simply close the Corned beef sandwich with the top slice of bread and your sandwich is done, its that easy
TIPS & ADVICE
Corned beef sandwich ideas extend to the use of a spread of tomato ketchup, sweet pickle or a spread of mustard.
SERVING SUGGESTIONS
Make your sandwich interesting with a dollop of sweet pickle and ketchup to dunk your sandwich.
SHARE THIS RECIPE: