British Grilled Cheese Sandwich Recipe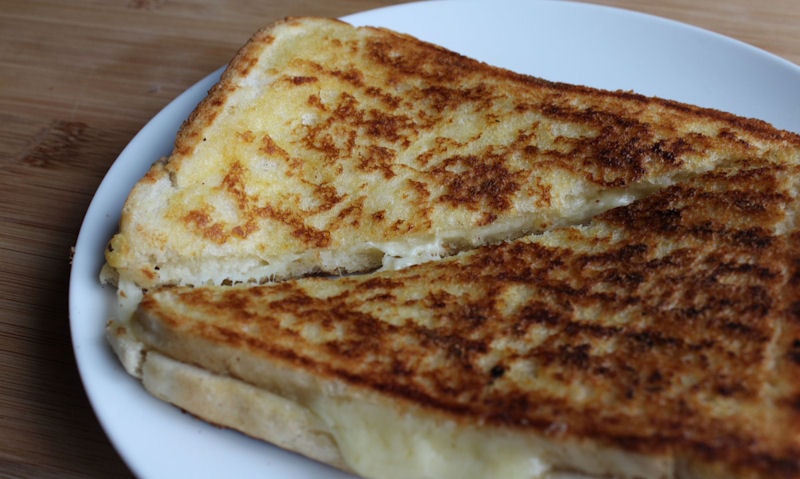 British Grilled Cheese Sandwich Recipe
Try your hands at a quick and easy classic American grilled cheese sandwich recipe. But if you're worried about it being greasy, you'll be pleasantly surprised at the results.
British food has a bad reputation, but we always associate US food as deep fried. So for many a grilled cheese sandwich is unthinkable - so we stick to the safe cheese on toast which is close as you'll get to a grilled cheese sandwich.
But our take on this sandwich is as good as a US version.
This British grilled cheese recipe is filled with mature Cheddar to enhance the flavor coming through in a simple buttered white bread to help cook evenly in the pan.
PREP:
4 MIN.
COOKING TIME:
8 MIN.
SERVINGS:
1
INGREDIENTS
2 slice Hovis medium white bread
90g mature Cheddar cheese, sliced
2 tbsp. soft spreadable butter
INSTRUCTIONS
1
Prepare by slicing 90g of mature Cheddar cheese, or enough to cover one side of bread slice
2
Well bringing your grill pan up to a medium heat butter one side of your bread slice
3
Once your grill is heated up, place the buttered side bread face down in pan - you'll now need to quickly assemble
4
On the bread slice cooking away in the pan quickly layer over your Cheddar cheese and then cover with the second bread slice
5
You should now butter the top bread slice before you're due to flip it over and cook the other side
6
After 4 minutes of cooking, the bottom bread slice should be golden and ready to be flipped over
7
You'll need a spatula to assist in turning over the grilled cheese, being careful not to spill the filling
8
Finally cook for another 4 minutes or so until the bread slice is golden and the cheese is melted
NUTRITIONAL DETAILS:
Calories: 643
Fat: 41.9g
Salt: 2.5g
Carbs: 37.1g
Protein: 30.8g
Fibre: 2.0g
Energy: 2675kJ
SHARE THIS RECIPE: