Ham & Cheese Panini Recipe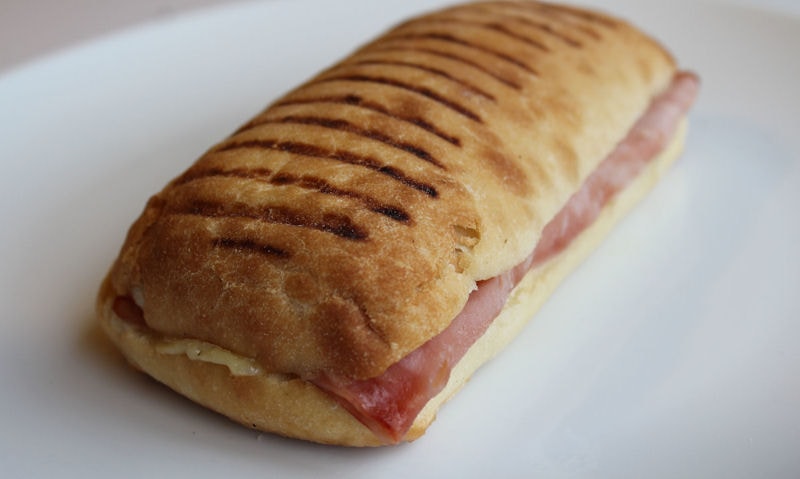 Ham & Cheese Panini Recipe
Cook up a smoked ham and mature Cheddar cheese pain panini with grill marks, from the bakery.
Its quick, simple but incredibly tasty, just slice a strong Cheddar and use a deli or quality package wafer smoked ham and throw it in a fresh panini.
Heat this up in the oven and the ham will cook and the cheese well melt beautifully. A ham and cheese panini sandwich is the easiest one you can make.
PREP:
14 MIN.
COOKING TIME:
18 MIN.
SERVINGS:
1
INGREDIENTS
1 plain panini with grill marks
480g strong mature Cheddar cheese, 6 slices
3 slices wafer thin smoked ham
Butter, optional
INSTRUCTIONS
1
Start by cutting open a plain white panini, spreading soft butter over the top slice, but this is optional
2
Then cut 6 slices of a strong mature Cheddar cheese and layer over the bottom panini slice covering the bread all over
3
And again, layer the cheese with 3 slices of wafer thin smoked ham
4
Close up the panini with the top slice and cover the whole sandwich with a sheet of kitchen foil
5
Place into a pre-heated oven at Gas Mark 5 for 18 minutes, making sure you turn around half way through cooking
6
Then remove from oven, remove foil and cut in half before eating right away
NUTRITIONAL DETAILS:
Calories: 1087
Fat: 69.1g
Salt: 4.5g
Carbs: 50.3g
Protein: 65g
Fibre: 3.1g
Energy: 4528kJ
Calcium: 1330.2mg
SHARE THIS RECIPE: