Ham & Cheese Sandwich Recipe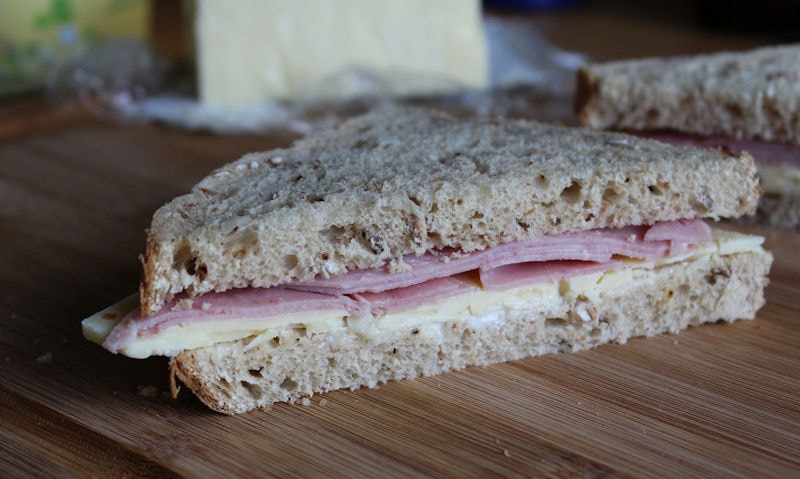 Ham & Cheese Sandwich Recipe
Ham and cheese sandwich made with mature Cheddar cheese the packet wafer thin ham in a wholemeal bread.
British classic ham and cheese sandwich although very simple to make, both these ingredients partner nicely in wholemeal bread - with a spoonful of mayo.
Be sure to spread the mayo on the sliced Cheddar cheese side so both ingredients combine well with every bite - before biting through the ham.
INGREDIENTS
2 Wholemeal bread slices
60g Mature Cheddar cheese, sliced
4 Wafer thin smoked ham slices
1 tbsp. Hellmann's mayonnaise
INSTRUCTIONS
1
Position two wholemeal bread slices side by side on the chopping board
2
On one bread slice spread on one tablespoon of Hellmann's real mayonnaise, reaching to the corners and edges
3
Directly on the mayo position up to 60g - or about 3 slices - of mature Cheddar cheese, doing well to cover the whole surface
4
On top of the cheese cover with wafer thin ham and close sandwich
5
Cut into a triangle and serve, best served chilled
NUTRITIONAL DETAILS:
Calories: 632
Fat: 38.4g
Salt: 3.25g
Carbs: 36.7g
Protein: 39.1g
Fibre: 6.8g
Energy: 2638kJ
SHARE THIS RECIPE: