Healthy Chicken Salad Sandwich Recipe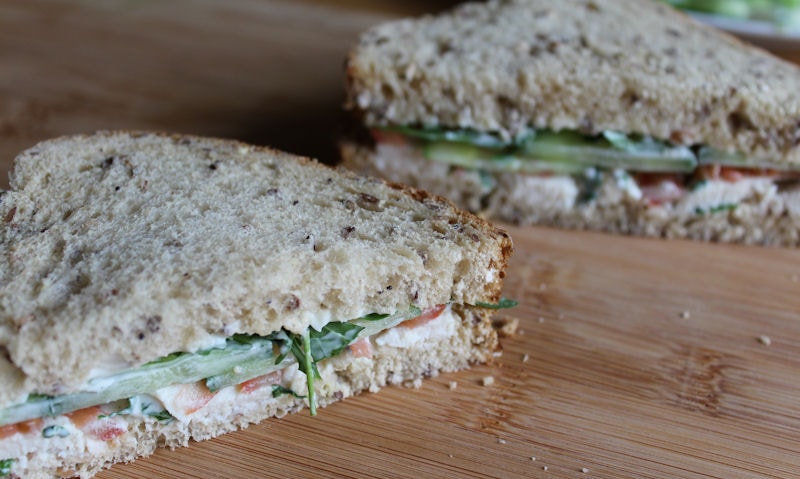 Healthy Chicken Salad Sandwich Recipe
Roasted chicken salad sandwich recipe with lettuce, tomato and cucumber in a low fat mayonnaise dressing and wholemeal bread.
Here we have an healthy chicken salad sandwich recipe with all the trimmings and a reduced fat mayonnaise with added natural yogurt dressing in a wholemeal bread.
Like all healthy sandwiches we've removed the high fat content and reduced it with healthy alternatives.
Take this sandwich and we've used light mayonnaise, then reduced the fat and calorie content more by splitting the mayonnaise with a natural flavor yogurt making this a tasty sandwich recipe.
INGREDIENTS
4 Medium wholemeal bread slices
1 roasted chicken breast
2 Tomatoes
Cucumber
Iceberg lettuce
2 tablespoons light mayonnaise
2 tablespoons natural yogurt
INSTRUCTIONS
1
Take your two bottom slices of wholemeal bread and lay them flat down on your surface ready for assembling
2
Take a small bowl and add two tablespoons of light mayonnaise and two tablespoons of natural yogurt and mix both thoroughly together
3
Split the mayonnaise and yogurt spread dressing in half and cover both slices of bread, making sure all corners and edges are covered
4
Slice the roast chicken breast in to small chunks and place the chicken pieces directly in the mayo and yogurt dressing. You should leave gaps between the chicken pieces and not use the whole chicken breast
5
Finally, add 5 slices of cucumber, 4 slices of tomato and a bunch of lettuce to assemble each sandwich, and add your top layer of bread to complete
6
You can eat the sandwich right away but we like to chill the sandwich in the fridge for 30 minutes in saran wrap to let the dressing marinade slightly
TIPS & ADVICE
The trick to a healthy low fat sandwich is reduced fat ingredients. its up to you to beat temptation and not add more such as chicken and real mayo.
SERVING SUGGESTIONS
Serve this healthy sandwich in the kids school lunch box as a healthy meal for dinner time. Add an apple and some grapes to give them enough energy to make it through the day.
SHARE THIS RECIPE: