Healthy Ham & Cottage Cheese Thin Recipe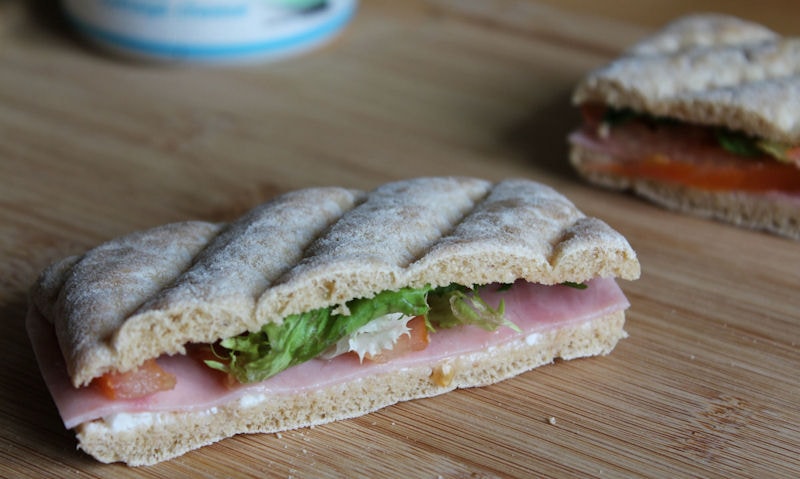 Healthy Ham & Cottage Cheese Thin Recipe
Enjoy a simple ham and cottage cheese sandwich with a little salad for when your eating less - this thin sandwich is ideal when your eating light.
Like most healthy sandwiches the key is less ingredients, but more importantly, a substitute for the unhealthy sliced bread.
This ham and cottage cheese sandwich removes most of the bad stuff with a basic thin for a very light snack.
You'll notice with the following recipe the ingredients are kept to a minimum, and you should not be tempted to add more.
INGREDIENTS
1 Warburtons Soft White Thin
1 small tbsp. low fat cottage cheese, 60g
1 cooked ham slice
2 tomato slices
Mixed leaf lettuce
INSTRUCTIONS
1
Right out of the packet the thin will be already cut in half, lay the bottom and top slice side by side on your chopping board
2
Then scoop a tablespoon of a low fat cottage cheese and spread it over the bottom slice reaching out to the edges
3
You'll only need one slice of cooked ham, and if you buy the right kind, it will fit perfectly with the shape of the thin, but that's not important, but its satisfying
4
Finally, cut 2 slices of tomato and add the ham, 2 tomato slices, then add the littlest amount of mixed leaf lettuce
5
Cover with the top thin and eat as is, or you may want to cut in half (as shown in image above)
NUTRITIONAL DETAILS:
Calories: 161
Fat: 1.9g
Salt: 1.02g
Carbs: 22.9g
Protein: 11.9g
Fibre: 1.7g
Energy: 676kJ
SHARE THIS RECIPE: