Healthy Smoked Salmon & Spinach Sandwich Recipe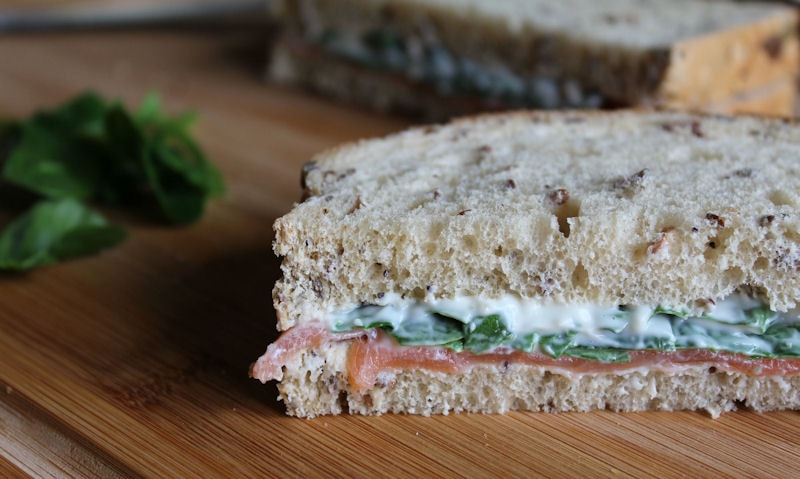 Healthy Smoked Salmon & Spinach Sandwich Recipe
On a low cal, low fat diet... no problem. Enjoy our healthy salmon sandwich consisting of smoked salmon, spinach and a mayo, yogurt combination, topped with a few extra leaves.
An healthy salmon sandwich at its very best, but really simple to make. You'll need smoked salmon - sliced, not the cooking kind - several leaves of spinach and a mayonnaise and Greek natural yogurt.
When mixed together you'll create a spinach infused dressing that will complement salmon beautifully.
INGREDIENTS
2 Wholemeal bread slices
1 Smoked salmon slice, 25g
1 tbsp. Hellman's lighter than light mayonnaise
1 tbsp. Greek Natural yogurt
8 Spinach leaves with stems on
INSTRUCTIONS
1
In a mixing bowl, add a small tablespoon of Hellman's lighter than light mayo and another small tablespoon of natural Greek yogurt
2
Then take 2 spinach leaves, fold them up and chop them with a knife, then add to the mixing bowl with the mayo and yogurt, mixing thoroughly
3
Lay out 2 slices of wholemeal bread and empty the mixture onto one slice of bread
4
On the second slice of bread position a single slice of smoked salmon, tucking in the edges if it protrudes over the confines of the bread
5
Take your remaining 6 spinach leaves and position them directly over the salmon
6
Then take the mayonnaise and yogurt dressing covered slice of bread to close the sandwich up
7
Cut in half and serve - but refrigerating it for an hour will help to enhance the spinach dressing flavor
NUTRITIONAL DETAILS:
Calories: 272
Fat: 4.3g
Salt: 1.8g
Carbs: 39g
Protein: 17.3g
Fibre: 7.6g
Energy: 1146kJ
SHARE THIS RECIPE: