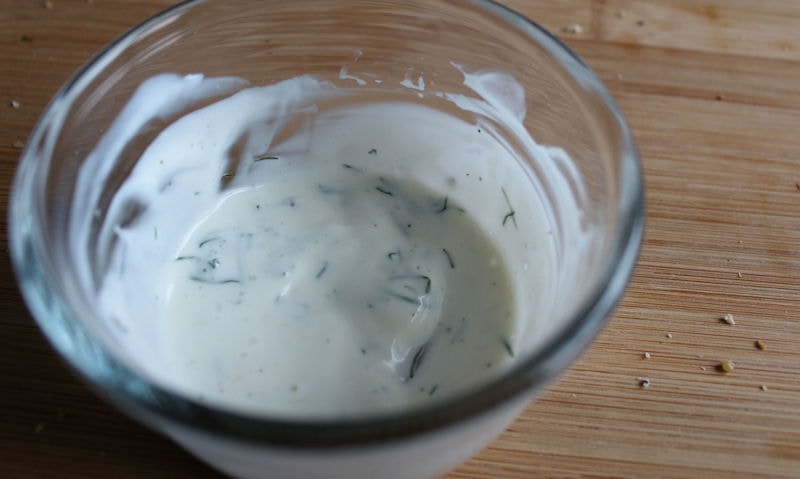 How to Make Dill Mayonnaise
Learn how to make a simple dill mayonnaise dressing using low fat mayonnaise and Greek natural yogurt with a big spoonful of freshly chopped dill.
Just a few healthy, low fat ingredients is all you need to make this creamy dill sauce.
It takes a spoonful of light mayonnaise and a tablespoon of Greek yogurt, mixed together in the bowl.
You then throw in a spoonful of freshly chopped dill and mix in with the mayo and yogurt to make the sauce - that's it.
What to eat with dill sauce
You can eat just about serve dill mayo with pretty much anything you eat mayo with.
But dill mayonnaise is the ideal sauce for salmon, whether you serve it on top of a freshly cooked smoked salmon or make a salmon bagel.
Make it healthy
Serve up this extremely healthy sandwich dressing using a low fat, low calorie mayonnaise and Greek yogurt which all contain healthy goodness.
If you wish, you can use full fat alternatives, but why not reduce the fat intake this time around.
INGREDIENTS
1 tbsp. Dill, chopped finely
1 tbsp. Hellmann's lighter than light mayonnaise
1 tbsp. Tesco low fat Greek style natural yogurt
INSTRUCTIONS
1
Start by adding a big tablespoon of Hellman's lighter than light mayonnaise into a mixing bowl
2
Then add a big spoonful of Greek natural yogurt into the bowl, mixing the yogurt and mayonnaise thoroughly
3
Chop one tablespoons worth of dill and throw it into the bowl, again mixing all the ingredients thoroughly
4
Bring out the dill flavor by covering your mixing bowl with saran wrap and place in fridge, this will allow the dill juices to escape and blend with the sauce
NUTRITIONAL DETAILS:
Calories: 32
Fat: 1.2g
Salt: 0.4g
Carbs: 3.7g
Protein: 0.6g
Fibre: 0.3g
Energy: 133kJ
SHARE THIS HOW TO RECIPE: