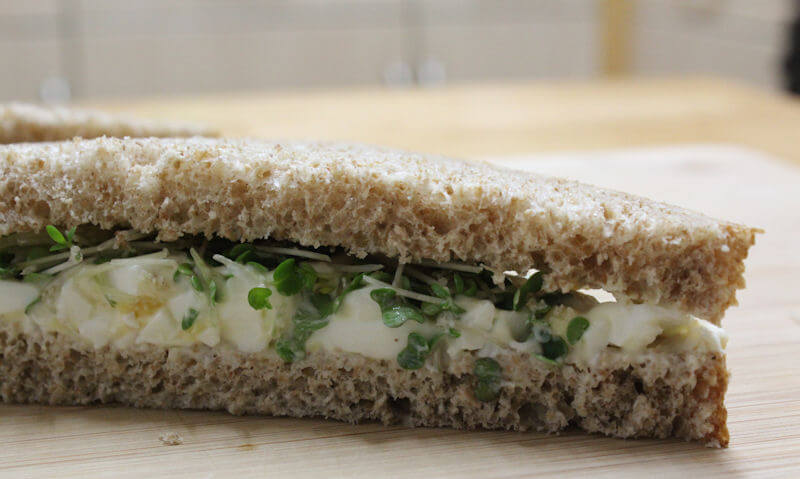 How to Make Egg Mayonnaise
Make creamy egg mayo made from organic hard boiled eggs and real mayonnaise for sandwiches.
Make one of the all time favorite sandwich recipes ever invented, the creamy egg mayonnaise. How to make egg mayonnaise couldn't be easier, or cheaper.
Simply take one and a half hard boiled egg for every sandwich you wish to make with an additional two dollops of Hellmann's Real Mayonnaise into your mixing bowl.
Just chop up your eggs and add the tablespoons of mayo and your egg mayonnaise recipe is ready.
PREP:
5 MIN.
COOKING TIME:
14 MIN.
SERVINGS:
2
INGREDIENTS
3 free range hard boiled eggs
4 tablespoons Hellmann's Real Mayonnaise
INSTRUCTIONS
1
Start with a simple mixing bowl or even a cereal bowl as an alternative
2
Take each hard boiled egg and chop the eggs with a butter knife, being careful with your fingers with every cut you make. Try and dice each egg to make it much tidier and easier to cut
3
With all your chopped eggs in your mixing bowl, add a good 3 or 4 tablespoons of mayonnaise and mix thoroughly until eggs are completely smothered in mayo
NUTRITIONAL DETAILS:
Calories:
Fat: g
Salt: g
Sodium: mg
Carbs: g
Protein: g
Fibre: g
Energy: kJ
TIPS & ADVICE
Gradually add tiny amounts of mayonnaise into your chopped egg mix until you reach your favorite texture.
For many, to little mayonnaise and your egg mayo mixture will be to dry, to much mayo and your mix will be to creamy.
SERVING SUGGESTIONS
Egg mayonnaise is the perfect compliment to any sandwich, whether its white or wholemeal bread, buns, rolls or even wraps.
Your egg mayo will also be much welcomed on a hot jacket potato.
SHARE THIS HOW TO RECIPE: