Doner Kebab with Seasoned Lamb Recipe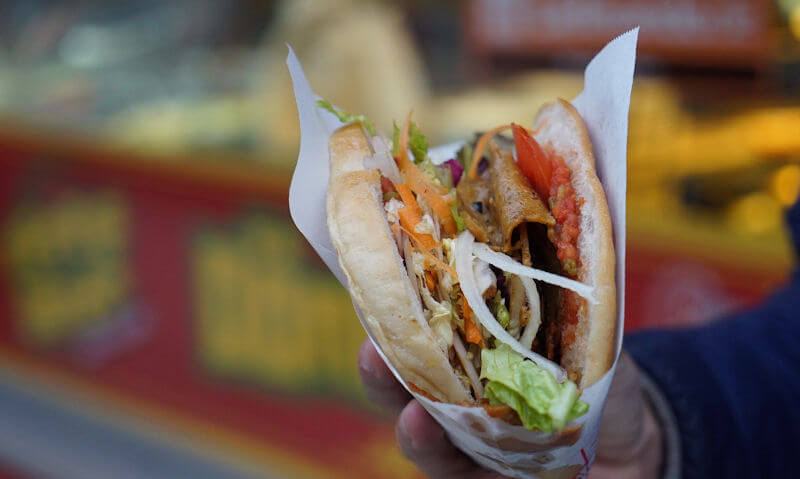 Doner Kebab with Seasoned Lamb Recipe
Traditional homemade doner kebab made without the expensive equipment.
The doner kebab is a favorite throughout the United Kingdom and other European countries.
Invented in Turkey, the doner is widely available on Turkish street markets and throughout arabic countries.
The UK version of the doner kebab recipe is similar to that of its counterpart but with a few extras thrown in.
Our doner kebab recipe includes minced lamb meat molded, shaped and then grilled with coleslaw added to the pita bread with a choice of garlic or chili sauce to finish.
PREP:
30 MIN.
COOKING TIME:
20 MIN.
SERVINGS:
2
INGREDIENTS
2 large plain pitas
500g Lamb mince
6 tablespoons coleslaw
Garlic or chili sauce (bottled)
INSTRUCTIONS
1
Start by dividing 500g of lamb mince and mold each halves in to thick sausage like shapes
2
Turn on your grill with the open flame and grill the lamb sausages for about 8 minutes turning them around every 2-3 minutes until brown on all sides. Keep an eye on the lamb insuring you don't burn or blacken the meat. The grill with allow you to drain all access fat from the meat
3
Remove lamb meat from under the grill and place each lamb sausage on to the chopping board
4
Take a sharpe carving knife and shave layers of the lamb sausages lengthways to replicate the lamb meat made from a traditional rotating spit seen in kebab houses
5
Slice open two large pita breads with a sharpe knife and divide the lamb meat equally in to the pitas making sure there's plenty of meat for each pita bread
6
Add three tablespoons of a good quality coleslaw for each pita or more if you fancy it
7
Finish the doner kebab with a choice of bottle garlic or chili sauce but whatever tickles you fancy. We however prefer a good garlic sauce
8
Serve the doners right away well the lamb meat is still hot
TIPS & ADVICE
You can cook the lamb meat any way you desire. We prefer to grill the meat under the grill with an open flame as its the closest thing to the real thing. You can fry the lamb but it holds to much fat.
SERVING SUGGESTIONS
Serve the doner kebabs when you have friends over. Serve with thin cut chips like fries and a slice of lasagna and a beer or two to wash it all down.
SHARE THIS RECIPE: