Mozzarella & Cheddar Cheese Thin Recipe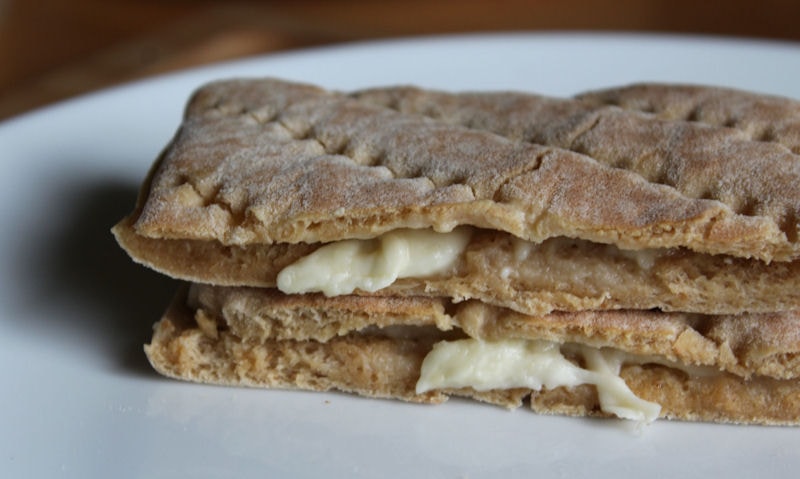 Mozzarella & Cheddar Cheese Thin Recipe
Two cheese sandwich thin oven cooked to a light crisp, or until the cheeses have melted. The Cheddar will melt into the thin well the Mozzarella slices sit on top.
We can't call it healthy because of the cheese, but its certainly the lowest fat toasties you'll make.
To make a Mozzarella cheese sandwich, all you need is a Cheddar and a simple Mozzarella ball, with a couple of slices cut off.
Then throw it into the oven and cook until the cheeses have melted.
PREP:
5 MIN.
COOKING TIME:
10 MIN.
SERVINGS:
1
INGREDIENTS
1 Warburtons White Sandwich Thin
30g Mozzarella, 2 slices
60g deli counter strong white Cheddar, or 2 thick slices
INSTRUCTIONS
1
Begin by pre-heating the oven to Gas Mark 5
2
Then cut 2 slices of mature Cheddar cheese and place on the bottom slice
3
Cut 2 slices of Mozzarella cheese from its watery ball, pat try with kitchen towel and place on top of Cheddar
4
Then cover the cheeses with the top thin slice and cover the whole thing with tin foil
5
Place directly into the oven - no baking tray needed - and cook for 10 minutes
6
Remove from oven and remove foil, serve right away well the toastie is still hot
NUTRITIONAL DETAILS:
Calories: 421
Fat: 27.5g
Salt: 1.49g
Carbs: 18.9g
Protein: 24.2g
Fibre: 1.0g
Energy: 1751kJ
SHARE THIS RECIPE: