Peanut Butter & Jam Sandwich Recipe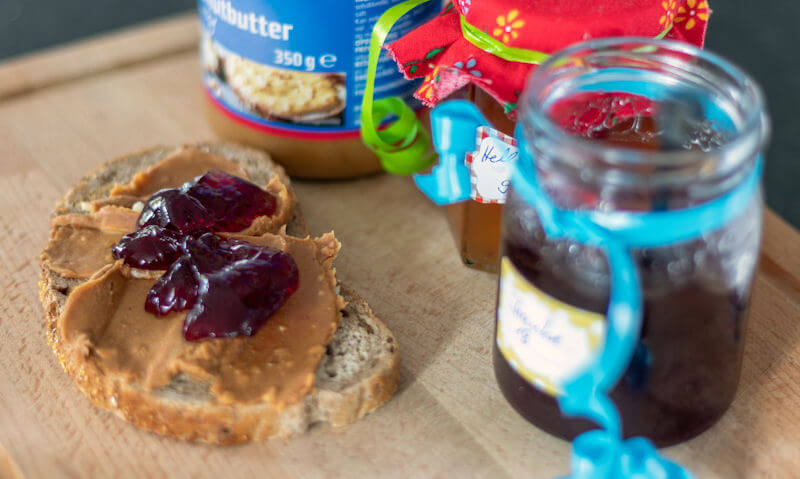 Peanut Butter & Jam Sandwich Recipe
The peanut butter and jam sandwich is a popular kids sandwich and is widely made in the United States.
This sandwich recipe consist of a crunchy peanut butter and ideally a quality raspberry or strawberry jam with bits for best results.
The peanut butter and jam sandwich is made with only two main ingredients and made by spreading the jam on one slice of bread and peanut butter on the other slice of bread and closed to create a red and yellow layer.
INGREDIENTS
2 medium sliced cut white bread
4 tablespoons crunchy peanut butter
3 tablespoons strawberry or raspberry jam
INSTRUCTIONS
1
Place your bottom and top slice of medium cut white bread on a chopping board or your kitchen work top
2
Add four tablespoons of crunchy peanut butter on one slice of bread with a butter knife insuring your cover the corners and edges
3
Now add three tablespoons of jam on the other slice of bread and cover all corners and edges completely
4
Close the sandwich which is traditional the jam side on top
5
Cut the sandwich in one half diagonally or four quarters for yummy bite size sandwiches
TIPS & ADVICE
Do not spread jam or peanut butter indirectly. This can get very messy and you want to avoid getting any peanut butter or jam mixed in the same jar together. Spread on each slice of bread for a cleaner, easy option with two separate knives.
SERVING SUGGESTIONS
Pack the peanut butter and jam sandwich for the kids lunchbox or if you have a sweet tooth you may want to try one yourself as a quick snack.
SHARE THIS RECIPE: