Cheese Ploughman's Sandwich Recipe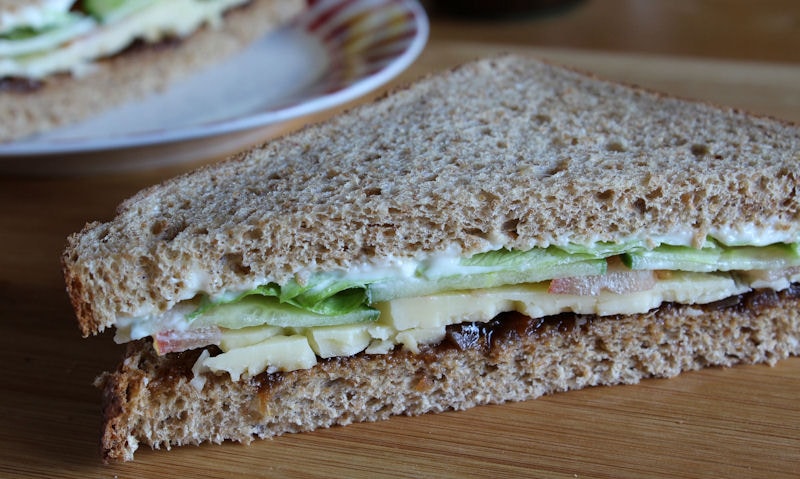 Cheese Ploughman's Sandwich Recipe
It all started from a dinner plate, but the popularity of the ploughman's lunch has turned into a nationwide treat, packed into a ploughman's sandwich.
To create the ideal cheese ploughman's sandwich, pick a strong, crumble texture, mature Cheddar cheese for the full flavor to shine through.
Sit the cheese on a spread of ploughman's pickle with tomato, cucumber and lettuce for the salad.
Then cover with a top slice of bread that consists of a spread of Hellmann's mayonnaise.
INGREDIENTS
2 slices thick cut wholemeal bread
1 tbsp. Branston small chunk pickle
1 tbsp. Hellmann's Real Mayonnaise
3 slices cut mature Cheddar cheese
4 slices tomato
5 slices cucumber
Lettuce leaves, Iceberg or mixed packet
INSTRUCTIONS
1
Begin by laying 2 slices of wholemeal bread side by side, then spread 1 tablespoon of Hellmann's mayo on one slice, and 1 tablespoon of Branston pickle on the second slice
2
On the Branston pickle slice of bread, cover fully with your 3 cut slices of mature Cheddar cheese, or as many as it takes to cover the sweet pickle
3
Then on top of the cheese, layer with tomato, cucumber, and enough lettuce to cover fully
4
Take your slice of bread containing the spread of mayo and finally cover your sandwich before cutting in half
5
Wrap the sandwich in saran wrap and refrigerate for 1 hour before serving
NUTRITIONAL DETAILS:
Calories: 717
Fat: 43.78g
Salt: 0.21g
Sodium: 0.6mg
Carbs: 42.4g
Protein: 32.95g
Fibre: 7.28g
Energy: 2959kJ
SHARE THIS RECIPE: