Pork Belly & Apple Roll Recipe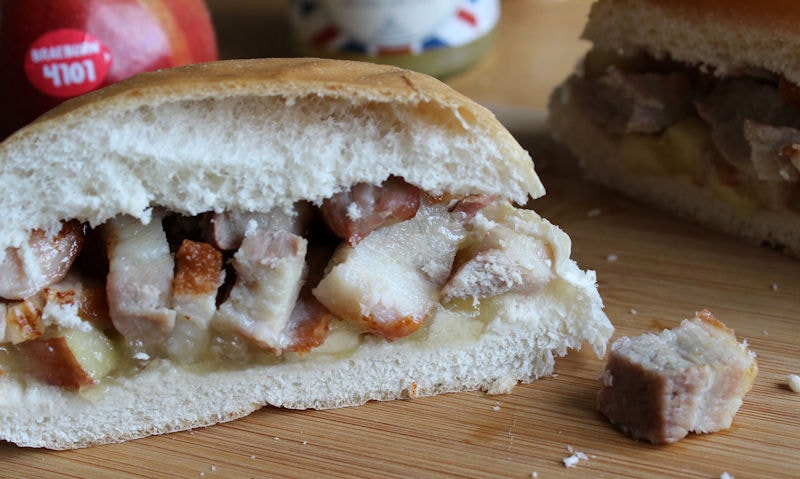 Pork Belly & Apple Roll Recipe
Pork belly with crackling, combined with Bramley apple sauce and a real red sweet apple, brought together to make a freshly cooked pork belly and apple sandwich.
All it takes is a large white roll, add the apple sauce and chopped apple and mix in a bowl.
Then fill the roll with the mix before applying the cooked pork belly right out of the oven. This is our take on a delicatessen pork roll without the pork roast.
PREP:
10 MIN.
COOKING TIME:
45 MIN.
SERVINGS:
1
INGREDIENTS
1 white soft roll, large
150g pork belly, 2 and a half slices
2 Braeburn apples slices, chopped
2 tbsp. Bramley apple sauce
Butter, optional
Salt
INSTRUCTIONS
1
To prepare the pork belly slices, move them onto a baking tray, pat dry with paper towel and sprinkle plenty of table salt to the fat
2
Place the tray into a pre-heated oven and turn the tray around half way through cooking
3
During the cooking stage, prepare the mixture by simply cutting 2 slices of red apple about 4mm thick and dice before throwing into a mixing bowl
4
Add 2 small tablespoons of Bramley apply sauce and stir in the apples
5
Before the pork belly is removed from the oven, cut a large white roll and add a dollop of your apple mixture to the bottom roll piece
6
Move the pork belly out of the oven, transfer to a big plate and cut the pork belly in slices, before placing them on top of the mixture
7
Eat right away well the pork belly is still warm as it cools down quickly
NUTRITIONAL DETAILS:
Calories: 691
Fat: 31.52g
Salt: 1.32g
Sodium: 0mg
Carbs: 59.3g
Protein: 38.1g
Fibre: 3g
Energy: 2833kJ
SHARE THIS RECIPE: