Prawn Cocktail Sandwich Recipe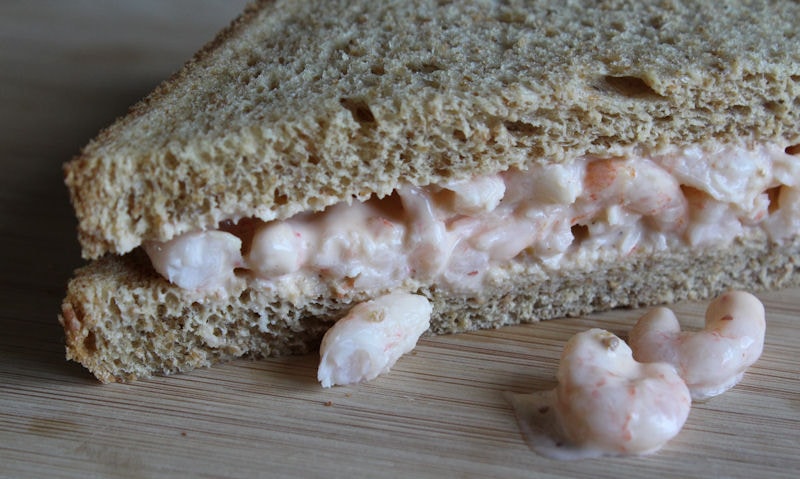 Prawn Cocktail Sandwich Recipe
Delicious pink cocktail sauce in with cold water prawns and mayonnaise.
This Prawn Cocktail Sandwich is the ideal seafood sarnie, filled with creamy cocktail sauce, mixed together with mayonnaise and a sprinkle of fresh dill.
Although the prawn cocktail sandwich is not the most popular choice compared to its rival in the Prawn mayo, this one taste so much better.
Grab yourself a jar of Coleman's prawn cocktail sauce together with some fresh grown or brought dill and mayonnaise, and its the ingredients you'll need to get started.
INGREDIENTS
4 thick cut wholemeal bread slices
100g Cold water prawns
4 tablespoons Coleman's prawn cocktail sauce
1 tablespoons real mayonnaise
INSTRUCTIONS
1
Before you begin with the sandwich make the cocktail sauce in a mixing bowl. Simply add four tablespoons of prawn cocktail sauce and one tablespoon of mayonnaise and mix thoroughly together in a mixing bowl
2
Add 100g of small cold water prawns (the small kind) in to the mayonnaise and cocktail sauce mixture and again mix the prawns thoroughly
3
Now get your 4 slices of thick cut wholemeal bread out of the bread bag and place on your kitchen countertop
4
Finally, spread an equal amount of prawn and cocktail sauce mixture on to two slices of bread and finish the prawn sandwich with the top slices of bread
5
Cover the sandwiches with saran wrap, place in the fridge for 30 minutes then its ready.
6
Placing the sandwich in the fridge for a short while will allow the prawns and cocktail sauce to marinade slightly. This will bring the whole sandwich to the same temperature which will make a big difference. That's why to some chilled sandwiches taste better
TIPS & ADVICE
You don't have to add the mayonnaise but the the cocktail sauce can be a little runny due to it being served as a dressing. The mayonnaise helps thicken up the sauce.
SERVING SUGGESTIONS
This traditional prawn sandwich would make a great addition to your next English tea party. Try adding some Rocket or Iceberg lettuce and a few slices of cucumber if you need a crunch to your sandwich.
SHARE THIS RECIPE: