Prawn Mayonnaise Sandwich Recipe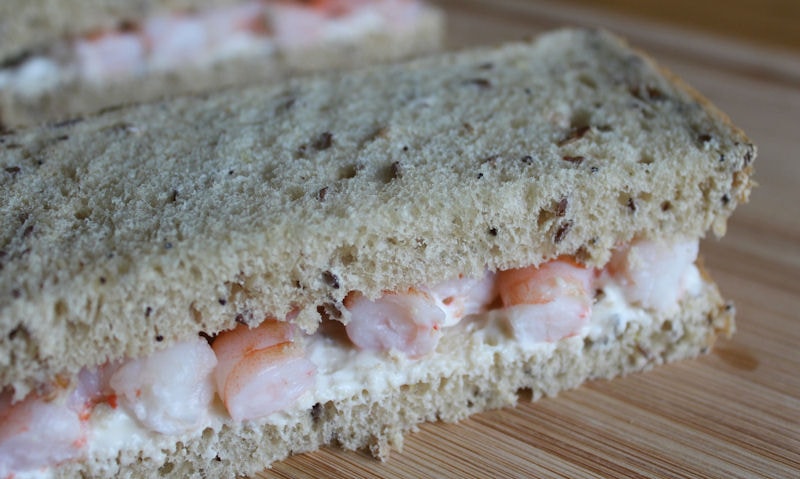 Prawn Mayonnaise Sandwich Recipe
Cooked and peeled succulent prawns mixed in a mayonnaise dressing on a wholemeal bread.
This prawn mayonnaise sandwich is traditionally made from already cooked and peeled king prawns, which are in turn mixed thoroughly together with Hellmann's real mayonnaise.
This simple prawn mayo sandwich has two basic recipes with the prawns and mayonnaise as the only ingredient so you'll end up with a good measure of prawns and mayo.
INGREDIENTS
4x slice medium Hovis wholemeal thick bread
75g cooked and peeled king prawns, approximately 15 prawns
1 tbsp. Hellmann's Real Mayonnaise
INSTRUCTIONS
1
Begin by taking 75g of king prawns - or approximately 15 prawns and add to a mixing bowl
2
Then take a tablespoon of Hellman's real mayonnaise and add a good dollop to the mixing bowl and mix in the prawns and mayo thoroughly
3
Place two slices of Hovis medium slice bread on the work surface and spread over all your prawn mayo mix over one side of bread
4
All you need to do now is close up the sandwich, cut in a triangle and cover in saran wrap - then refrigerate for an hour for the mixture to blend
NUTRITIONAL DETAILS:
Calories: 472
Fat: 24g
Salt: 2.16g
Carbs: 36.9g
Protein: 24.2g
Fibre: 6.5g
Energy: 1969kJ
TIP 1:
You can mix a little seafood sauce to the mayonnaise to create the ultimate prawn mayonnaise sandwich well at the same time reducing the strong vinegar taste.
TIP 2:
You can boost up this sandwich with fresh salad using Iceberg lettuce, tomato and cucumber for a crunchy bite.
TIP 3:
Replace the mayo with one tablespoon of Marie Rose sauce if you prefer an alternative seafood friendly sauce, and in our opinion, taste far better.
Tip 4
Like cold pasta snacks? Introduce this recipe to cooked, cold pasta and seal in a storage container and take to work for lunch or dinner.
SERVING SUGGESTIONS:
Apply this prawn mayo sandwich recipe to a delicate tea party or make a posh sandwich for lunch.
SHARE THIS RECIPE: