Prawn Salad Sandwich Recipe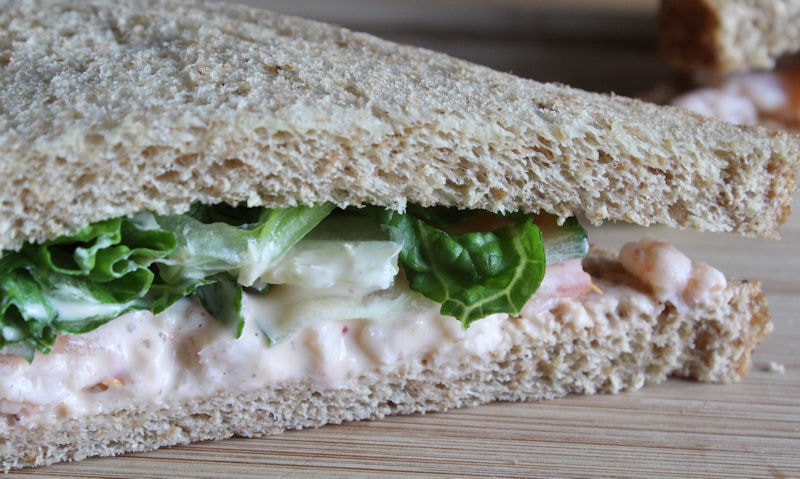 Prawn Salad Sandwich Recipe
Big pile of small cold water prawns, mixed in half and half with Hellmann's mayonnaise and Marie Rose sauce and freshly cut tomato and cucumber with shredded romaine lettuce.
All you need to make this prawn salad sandwich is a handful of small, but still flavorful juicy cold water prawns.
But to dice down the strong taste of this Marie Rose sauce, we've mixed it 50/50 with mayo to create a creamy seafood salad like sauce.
INGREDIENTS
2 Wholemeal bread slices
150g Cold water prawns
1 tbsp. Hellmann's Real Mayonnaise
1 tbsp. Tesco Finest Marie Rose Sauce
4 Cucumber slices
4 Tomato slices
1 Romaine lettuce leaf, shredded
INSTRUCTIONS
1
First let's make the mix, take 1 tablespoon of Hellmann's real mayonnaise and 1 tablespoon of Marie Rose sauce, mixed in a bowl
2
Then pile in 150g small cold water prawn and mix the prawns in the mayo/marie rose mixture thoroughly
3
Position two slices of wholemeal bread side by side on your shopping board
4
On the one slice, pour on all your prawn mayonnaise mixture
5
Then position 4 tomato slices, 4 cucumber slices on top of that - then finally sprinkle on your shredded lettuce
6
Close up the sandwich and place in the fridge for up to an hour to chill before serving
NUTRITIONAL DETAILS:
Calories: 505
Fat: 23g
Salt: 1.9g
Carbs: 41g
Protein: 32g
Fibre: 7.5g
Energy: 2113kJ
SHARE THIS RECIPE: