Salmon & Cream Cheese Bagel Recipe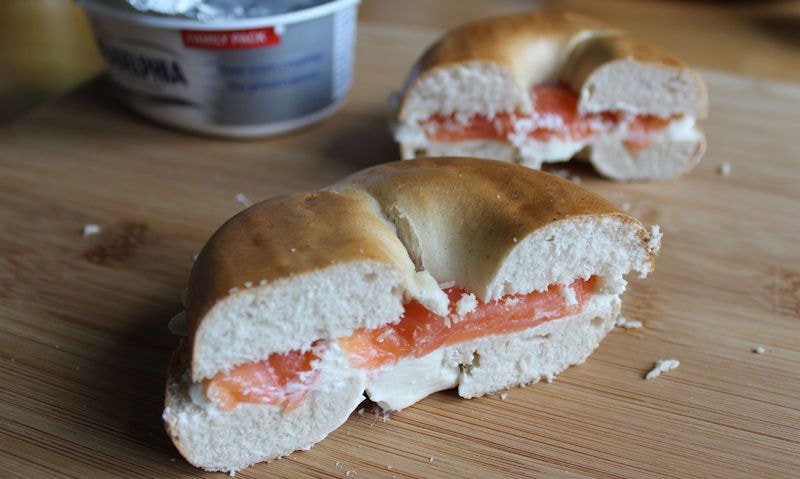 Salmon & Cream Cheese Bagel Recipe
This very creamy salmon and cream cheese bagel is filled with flavor, from the smoked salty salmon through to the soft cream cheese and plain bagel.
The smoked salmon and cream cheese filling is a common bagel filling, and widely used with all types of bagels.
Select a good quality cream cheese, also known as soft cheese or use a full fat Philadelphia cheese in your bagel.
The salmon is usually available smoked so pick yourself up a packet of that to fill up your bagel middle to produce this incredibly delicious bagel.
PREP:
8 MIN.
COOKING TIME:
1
INGREDIENTS
1 plain bagel
1 large slice of Smoked Salmon
3 tablespoons cream cheese
INSTRUCTIONS
1
Take one plain bagel and slice it through the middle across the side to remove the top layer
2
With your bottom bagel piece add three tablespoons of cream cheese and spread over the bagel completely. You should have a nice thick spread of cream cheese
3
Take one large slice of smoked salmon, lightly fold it through the middle and place directly over the cream cheese with some salmon protruding out of the side of the bagel
4
Simply place the top bagel piece over the salmon and your bagel is complete and ready to serve
TIPS & ADVICE
Only use one slice of smoked salmon to stop it overbearing the full taste of the bagel. Use plenty of cream cheese to prevent the bagel being to dry.
SERVING SUGGESTIONS
Serve the salmon and cream cheese bagel for breakfast or as a posh snack for lunch or brunch with friends.
SHARE THIS RECIPE: