Southern Fried Chicken Wrap Recipe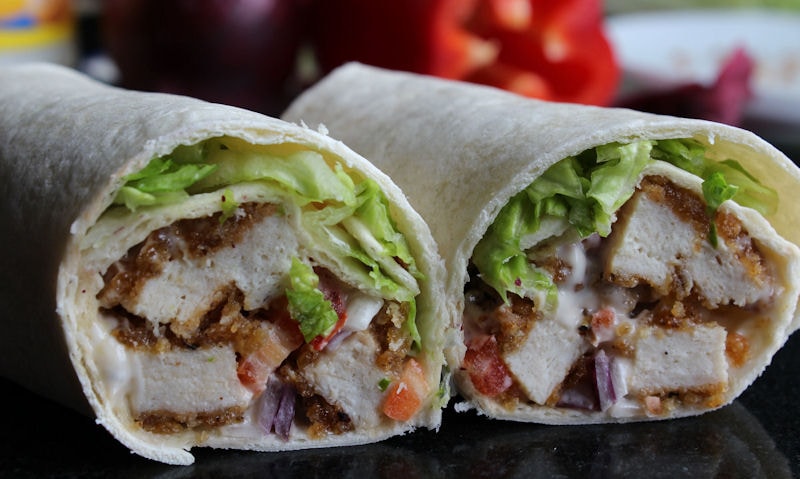 Southern Fried Chicken Wrap Recipe
This southern fried chicken wrap has a zing available in no other recipe. Combine this with chopped red onion, red pepper and mayo for a simple but delicious wrap.
Before you can make this southern fried chicken wrap recipe you'll need to first cook a single chicken burger in the oven using the cooking instructions provided.
Then slice this southern fried burger up and mix it up with sliced and chopped red pepper, onion and a big dollop of mayonnaise.
PREP:
10 MIN.
COOKING TIME:
20 MIN.
SERVINGS:
1
INGREDIENTS
1 plain white tortilla wrap, 10 inches wide
1 Birdseye southern fried chicken burger in bread crumbs
1 tbsp. Hellmann's Real Mayonnaise
1 slice red pepper, chopped
1 slice red onion, chopped
1 Iceberg lettuce leaf
INSTRUCTIONS
1
Before anything else, take a Birdseye frozen burger and pop in a pre-heated oven for 20 minutes, or until the coating is golden and crispy - allow time to cool
2
Then take a mixing bowl and throw in one slice of red pepper, chopped
3
And then one slice of thick cut red onion and again chop it down
4
Then take your cold, cooked southern fried chicken burger and slice into 6 or 7 pieces
5
And then throw in one big tablespoon of Hellmann's mayonnaise and thoroughly mix all the ingredients together - being careful not to break up the burger
6
Now, take a single tortilla wrap and place all your filling to the one side of the wrap with a gap of 1 inch from the edge
7
Fold the wrap over the filling only, and layer shredded Iceberg lettuce down the length of the ingredients
8
Then fold over again tightly, fold in the ends and finally roll up the wrap completely
9
Be sure to refrigerate for one hour to help keep its shape and cut in half before serving
NUTRITIONAL DETAILS:
Calories: 592
Fat: 27.5g
Salt: 2.2g
Carbs: 61.5g
Protein: 22.2g
Fibre: 5.5g
Energy: 2476kJ
SHARE THIS RECIPE: