Steak & Cheese Sub Recipe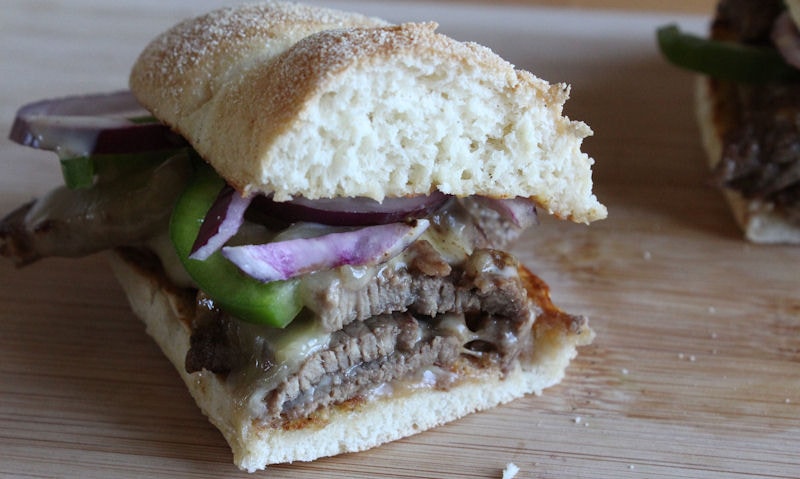 Steak & Cheese Sub Recipe
Try your hands at a steak and cheese sub using a stack of beef strips topped with melted Cheddar and fresh salad.
Probably the best sandwich we've ever made, this is a mouth-watering steak and cheese sandwich with fried beef strips, freshly cut from a beef joint with Cheddar cheese melted on top - using the same pan.
We've used green pepper and red onion to compliment it beautifully. But with a light spread of honey and mustard dressing, you'd have yourself a mighty sub.
To prepare the sub rolls
Before you start preparing this recipe, you'll first need to toast the sub rolls.
To do this cut open a sub roll and butter the top and bottom slice, place both sides butter side down on a heavy pan and cook until the butter has melted and turned to toast - with a golden and lightly rustic texture.
Make beef strips from roasting joint
You'll need yourself a small beef roasting joint from the store at a cost of about £5.50 GBP or $7.09 USD - but make sure you pick up the flattest one available.
However, your cut of beef joint will very. If its a single layer joint you can go ahead and begin slicing the strips at 1mm to 2mm thick.
But if its a rolled joint, you'll need to remove the string and unravel it - but be sure to remove all the fat and grizzle as best you can using a heavy knife.
PREP:
20 MIN.
COOKING TIME:
20 MIN.
SERVINGS:
1
INGREDIENTS
1 Plain white sub roll
2 Slices Cheddar cheese
125g Beef strips cut from a beef joint, make 7 to 10 strips per sub
1 tbsp. Olive oil
1 tbsp. Honey and mustard salad dressing
2 green peppers slices, chopped
1 Red onion slice, chopped
INSTRUCTIONS
1
Before you begin, following the instructions above, make sure your sub is toasted and all the beef strips have been cut from the roasting joint
2
Heat up a heavy pan on a medium heat with a tablespoon of olive oil, throw in your 7 to 10 beef strips and continue to turn them all until all strips have browned off within five minutes
3
Then using a spatula move your beef strips into a corner in a similar shape and size to that of your sub roll
4
Then top it off with 2 slices of Cheddar, but again stay in the confines of the shape you've created with the beef strips
5
To speed up the process of the cheese melting, create a make-shift kitchen foil lid using a dish towel to protect your hands - the cheese should melt within a minute
6
Then take the bottom side of your toasted sub roll and slide the beef and melted cheese pile directly onto the sub roll out of the pan - be sure to use a plate
7
On the top sub roll pour on a tablespoon of Honey and mustard dressing
8
Directly on the beef and cheese add your chopped green peppers and red onions
9
Close up the sandwich, cut in half and enjoy well its still nice and hot
NUTRITIONAL DETAILS:
Calories: 856
Fat: 49.4g
Salt: 1.3g
Carbs: 57.3g
Protein: 44.1g
Fibre: 4.7g
Energy: 2348kJ
SHARE THIS RECIPE: