Tesco Chicken & Bacon Sub Review Review
Tesco chicken and bacon sub is filled with chicken breast, salt and pepper mayonnaise with a sweet cure streaky bacon in a plain white maize topped sub roll.
Well it appears small, you'll actually be biting into an 8 inch sub roll with a thick spread of filling with plenty of chicken and a good taste of bacon
And although the seasoned mayonnaise is very nice, perhaps just a little to peppery though.
The bread roll is not intrusive, it is quite light and airy well you can still enjoy the filling rather than a spongy roll.
The taste of the maize does come through ever so slightly but overall its a good choice of roll.
This Tesco chicken and bacon sub is not quite what you're used to, but it has quite a bite to it and surprising, quite a bit of weight to it.
Overall, there's plenty of filling with no extra mayonnaise or filling needed.
Nutrition (Each Pack):
Energy: 2262kJ, Calories: 539, Fat: 21.4g, Saturates: 3.4g, Carbohydrate: 57.0g, Sugar: 6.0g, Fibre: 3.6g, Protein: 27.8g, Salt: 1.4g
Ingredients:
Wheat Flour (Wheat Flour, Calcium Carbonate, Iron, Niacin, Thiamin), Chicken Breast (26%), Water, Rapeseed Oil, Sweetcure Streaky Bacon (6%), Sugar, Pasteurised Egg Yolk, Salt, Spirit Vinegar, Cornflour, Palm Oil, Yeast, Emulsifiers (Mono- and Di-Glycerides of Fatty Acids, Mono- and Di-Acetyl Tartaric Acid Esters of Mono- and Di-Glycerides of Fatty Acids), Cracked Black Pepper, White Pepper, Mustard Flour, Concentrated Lemon Juice, Maize, Flour Treatment Agent (Ascorbic Acid), Sweetcure Streaky Bacon contains: Pork Belly, Sugar, Salt, Stabiliser (Sodium Triphosphate), Honey, Preservative (Sodium Nitrite)
My personal pictures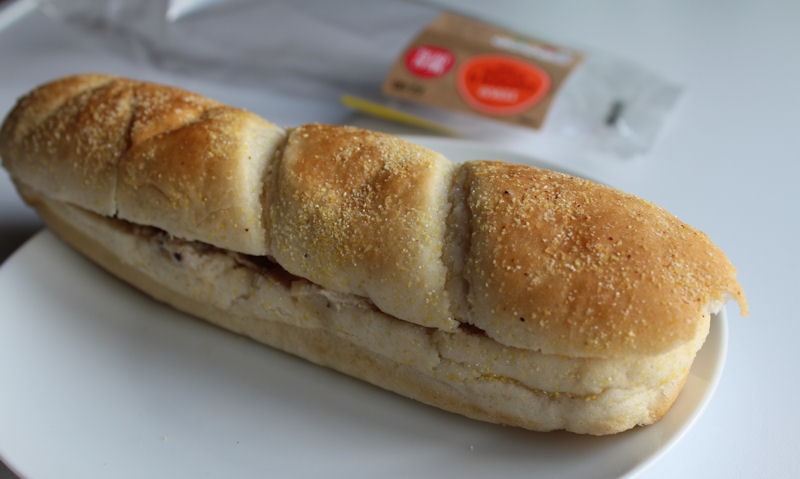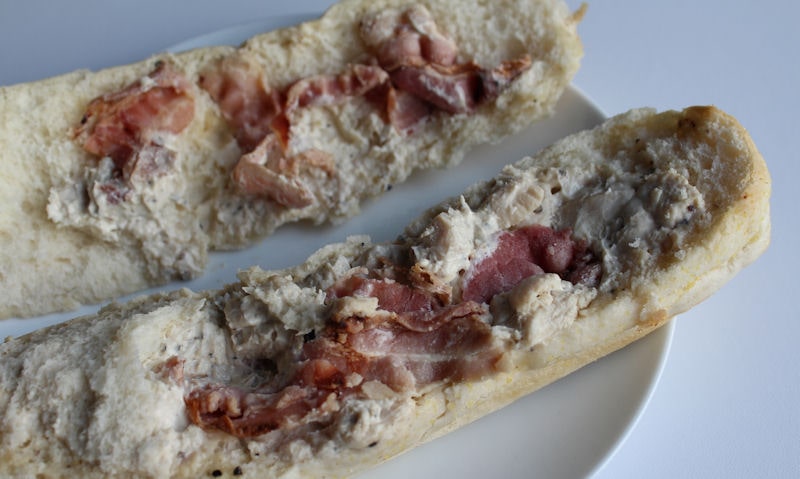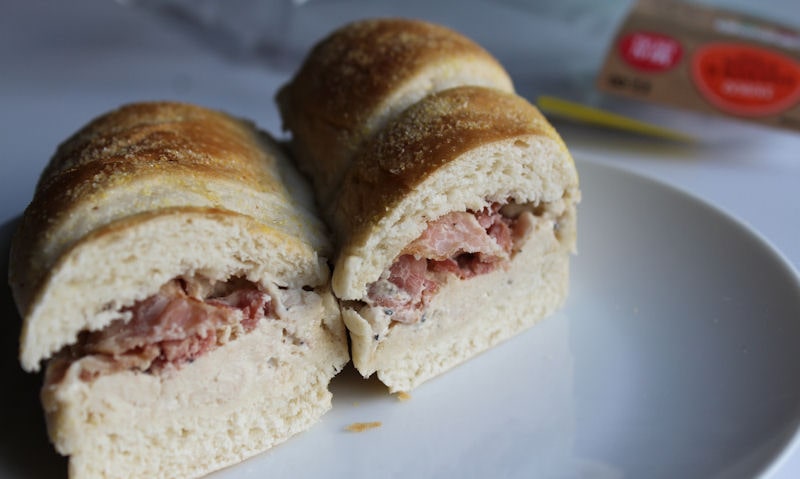 Share this article: