Turkey BLT Sandwich Recipe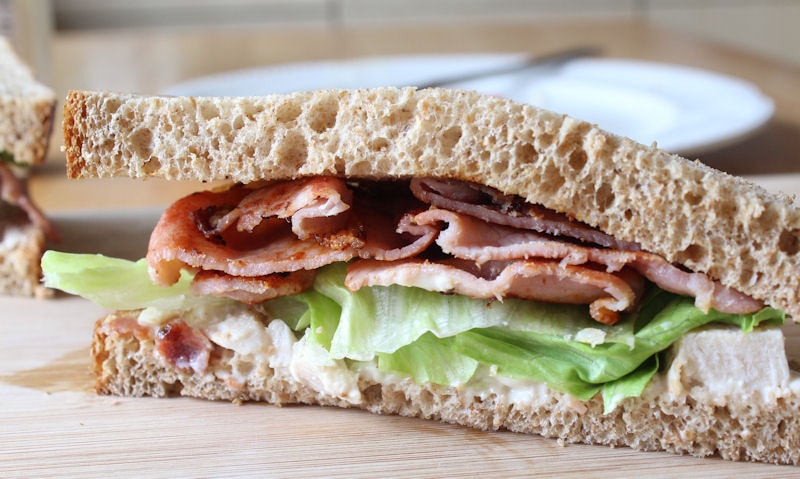 Turkey BLT Sandwich Recipe
Turkey BLT sandwich using unsmoked back bacon, Iceberg lettuce, tomato and a big spoonful of mayonnaise for a big hefty lunch.
And well using cooked and chilled turkey breast chunks is just fine, why not improve the freshness using real turkey when the time is right - like at Christmas.
Add to this unsmoked back bacon, lettuce, tomato and mayonnaise for a big snack.
INGREDIENTS
2 Wholemeal bread slices
1 tbps. Hellmann's mayonnaise
70g Cooked roast turkey, or 2 thick slices
6 Unsmoked back bacon rashers
4 Tomato slices
1 Iceberg lettuce leaf
INSTRUCTIONS
1
Begin by laying out 2 slices of wholemeal bread side by side on the chopping board, dolloping a big tablespoon of mayo on one slice
2
On the mayonnaise slice, position 70g of turkey slices or chunks, covering the whole bread evenly
3
Then pile on a whopping 6 rashers of unsmoked back bacon, position 3 rashers, then 3 rashers again in the opposite direction
4
Add to that 4 tomato slices and a leaf worth of Iceberg lettuce, chopping it up so it all fits
5
That's it, cover in saran wrap, add to fridge and serve in an hour for best results
NUTRITIONAL DETAILS:
Calories: 806
Fat: 463g
Salt: 10.7g
Carbs: 38.3g
Protein: 84.5g
Fibre: 6.9g
Energy: 3124kJ
SHARE THIS RECIPE: