Turkey Stuffing Sandwich Recipe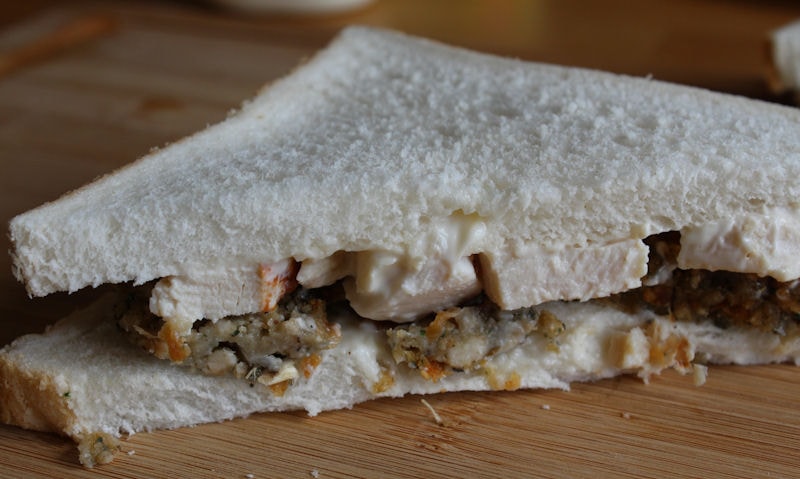 Turkey Stuffing Sandwich Recipe
No need to roast a whole turkey for this recipe, use chilled roast turkey breast chunks, mix with mayonnaise and make up instant stuffing to make this easy turkey stuffing sandwich.
Very rarely do people eat turkey unless its round the holidays - like christmas or thanksgiving - and there's always turkey left over. But with this turkey sandwich recipe all you need is the snack kind that comes cooked and chilled in a packet.
You'll need to make up an instant small sage and onion stuffing ball - perhaps with a little butter too - and cook in the oven for 25 minutes.
To make the Paxo Stuffing Ball
Start by pre-heating the oven to 220ºC, Gas mark 7, adding 50g stuffing and 50ml of boiling water, mixing well.
Then leave to stand for 5 minutes before placing the stuffing ball onto a greased baking sheet and bake for 25-30 minutes until piping hot. But wait to the stuffing ball has cooled down before chopping it up for the sandwich.
PREP:
10 MIN.
COOKING TIME:
25 MIN.
SERVINGS:
1
INGREDIENTS
2 Soft white medium cut bread
100g Bernard Matthews Roast Turkey Breast Chunks
50g Paxo sage and onion stuffing mix, 1 stuffing ball
1 tbsp. Hellmann's real mayonnaise
INSTRUCTIONS
1
Before you do anything else make up and cook the Paxo instant sage and onion stuffing ball using the detailed instructions we've outlined above.
2
Take a mixing bowl and add 100g of Bernard Matthews turkey chunks
3
Then throw in one big tablespoon of Hellmann's real mayonnaise into the bowl and mix thoroughly with the turkey pieces
4
At this stage add a little pinch of salt and pepper if desired
5
Pile on all your turkey and mayonnaise mixture onto one slice of medium cut white bread
6
Once your stuffing ball has cooled, chop it up and scatter it evenly over your turkey and mayo mix
7
Simply close up the sandwich and chill for an hour before serving up
NUTRITIONAL DETAILS:
Calories: 458
Fat: 14g
Salt: 2.3g
Carbs: 48.9g
Protein: 33.5g
Fibre: 2.9g
Energy: 1930kJ
TIPS & ADVICE:
When you next roast a whole turkey, stuff it with Paxo mix to produce a stuffing blend mixed with turkey fat, improving the taste but with a few more calories.
SERVING SUGGESTIONS:
Heat up your packet turkey pieces and heat in the oven along with a stuffing ball. Then add a few vegetables boiled in a pan and serve and a small roast turkey dinner.
SHARE THIS RECIPE: