Wafer Thin Roast Chicken Salad Sandwich Recipe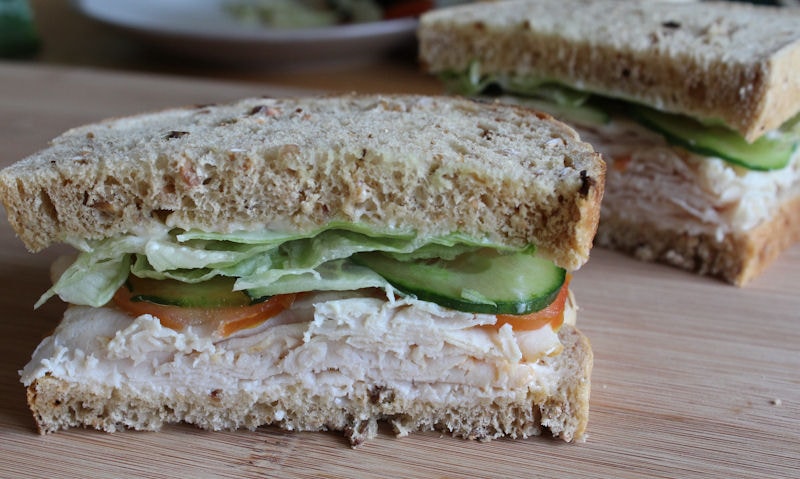 Wafer Thin Roast Chicken Salad Sandwich Recipe
An ideal sandwich to quickly make for school or work by simply transferring a whole pack of wafer thin chicken into a sarnie topped with cucumber, tomato, lettuce and mayonnaise.
There's little measuring or time needed to make this wafer thin roast chicken sandwich, just use up an whole pack of 125g wafer chicken and throw it into a sandwich.
Its up to you what salad you want to use but we've gone with tomato, cucumber and lettuce, with two big dollops of mayonnaise.
INGREDIENTS
2 Hovis wholemeal thick bread slices
125g Tesco Wafer Thin Chicken, whole pack
2 tbsp. Hellman's Real Mayonnaise
2 Tomato slices
5 Cucumber slices
1 Iceberg lettuce leaf
INSTRUCTIONS
1
Begin by dolloping a tablespoon of Hellmann's real mayonnaise on each of your wholemeal bread slices
2
Then open a packet 125g wafer thin roast chicken and transfer the whole pack onto one slice of bread - just lift the whole chicken slices in one go
3
Then position 4 tomato slices, then 5 cucumber slices and finally top it with a cut up Iceberg lettuce leaf
4
That's it, close up the sandwich and cut in half before serving
NUTRITIONAL DETAILS:
Calories: 558
Fat: 54g
Salt: 2.9g
Carbs: 41g
Protein: 44.8g
Fibre: 7.8g
Energy: 2333kJ
SHARE THIS RECIPE: